NHS chief: 'Further cancer cuts likely'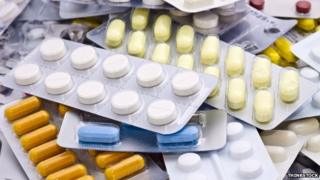 The head of a special NHS fund for cancer medicines in England has said there will need to be further cuts to the treatments it funds.
This week it was announced 25 different cancer treatments would no longer be paid for by the Cancer Drugs Fund.
But Prof Peter Clark, an oncologist who runs the fund, said the rising cost of drugs was a problem.
He added that the system for chemotherapy drugs was "broken".
The Cancer Drugs Fund was established under this government and is spending increasing amounts of money on medicines which would not otherwise be available to NHS patients in England.
More than 60,000 people have used the fund since it was established in 2010. However, it has been repeatedly overspent.
The number of drugs funded was restricted at the same time as the budget was expanded from £280m to £340m.
More cuts
The fund's chairman has now admitted there are likely to be further such cuts to treatments.
Prof Clark told a health conference in London that cancer had a special place in people's psyche. But he said but the Cancer Drugs Fund was a political creation that had been set up to exploit the special willingness to pay for cancer drugs.
He said he regretted that the fund undermined decisions by the National Institute for Health and Care Excellence (NICE) - which normally approves drugs for use.
He said it was, in effect, handing the pharmaceutical industry a "get out of jail free" card.
He concluded: "The issue at the minute is commissioning of chemotherapy is broken.
"You have NICE that says yes fine, NICE that says no - and then there's the Cancer Drugs Fund.
"That is not logical, robust, rational commissioning."
The Department of Health says the changes to the Cancer Drugs Fund would allow "new and better drugs" to be offered to patients.