A&E waiting times: NHS ambulance delays increasing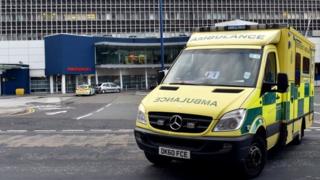 The number of delays faced by ambulances when they arrive at A&E has doubled in a year, NHS England figures show, as the pressure on hospitals grows.
There were also rises in delayed discharges and cancelled operations in the past month, compared to a year ago.
Meanwhile new A&E waiting time figures show performance against the four-hour target has worsened in the new year.
The last three months of 2014 had seen the worst waits for a decade.
On Tuesday figures showed 92.6% of patients were seen in four hours during the October-to-December quarter. The target is 95%.
The latest data covers the week up to Sunday and shows 86.7% of patients were seen in four hours.
A further analysis by the BBC of data released by NHS England has also found a number of other indicators are worsening.
Over the past four weeks, compared to the same period last year:
The number of visits to A&E units has risen by 7% to 1.7m
The number of waits above four hours for a bed to be found after a decision to admit a patient to hospital - known as a trolley wait - has risen by 224% to more than 47,000
Nearly 38,000 ambulances faced delays of 30 minutes or more in handing patients to A&E staff - more than double the figure the year before. Handovers are meant to be completed in 15 minutes
Delayed discharges have risen by nearly a third, with more than 62,000 "bed days" lost owing to a lack of community support for frail and elderly patients
There were nearly 5,500 elective operations cancelled, up 62%
"The pressure has built across the system and is now spreading," said Dr Cliff Mann, president of the College of Emergency Medicine.
"We are seeing more patients come in and are struggling to get them through. This is going to persist for some time."
The figures come during a week in which a number of hospitals have declared "major incidents", leading to extra staff being called in to help them cope.
The latest waiting-time figure is the worst since weekly recording began in 2010.
The last four weeks have all been the four worst ever recorded.
Private pull-out
The overall figure includes walk-in centres and minor injury units.
Once they are stripped out the performance of major A&E units has fallen below 80%.
Waiting time targets are being missed elsewhere in the UK too.
Hospitals under pressure
1.7m
visits to A&E in past four weeks
7%
rise on same period last year
224% rise in trolley waits

116% rise in ambulance delays

31% rise in delayed discharges

62% rise in cancelled operations
Dr Sarah Pinto-Duschinsky, of NHS England, said: "The NHS continues to face unprecedented pressures on its frontline services.
"Flu is now at its highest peak for the last three winters. This means the NHS will continue to be under pressure for the next few weeks."
Dr Mark Porter, of the British Medical Association, said the pressures were "unprecedented".
The release of the data comes on the day the private firm Circle announced it was pulling out of the contract to run Hinchingbrooke Hospital in Cambridgeshire.
It was the first private firm to take over the running of an entire hospital when the contract started in 2012.
The firm blamed the rising pressures on the health system, including on A&E. Although the Care Quality Commission has carried out an inspection. The report is yet to be published, but is expected to be critical.
The Department of Health said it was "disappointed" in the decision.
A&E performance across the UK
Nation
Target
Latest performance
England
95% of patients in four hours
86.7% in the past week
Northern Ireland
95% of patients in four hours
80.5% in November
Scotland
98% of patients in four hours
93.5% of patients in September
Wales
95% of patients in four hours
83.8% of patients in November
On A&E, the data in the other nations lags a little behind England. In Wales, the data from November shows just 83.8% of patients were seen in time.
Northern Ireland is performing even worse - just above 80% of patients were seen within four hours in November.
Scotland has a slightly tougher waiting time target - 98% of patients should be seen in four hours - but in September 93.5% were.
Comparing the September figures for England and Scotland shows England was performing slightly better in that month.