UK Ebola nurse Pauline Cafferkey 'remains critical'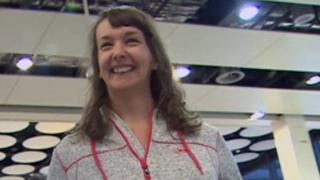 A British nurse who was diagnosed with Ebola after returning from Sierra Leone remains in a critical condition, Scotland's First Minister Nicola Sturgeon has said.
Pauline Cafferkey is being treated at London's Royal Free Hospital.
Addressing the Scottish Parliament, Ms Sturgeon said screening measures at airports had already been revised.
She said Health Protection Scotland was working with NHS England on robust measures to stop the disease spreading.
Ms Cafferkey, a public health nurse, was diagnosed with Ebola in December after volunteering with Save the Children in Sierra Leone.
She had travelled home via Casablanca, Morocco, and Heathrow Airport in London.
She was initially screened at Heathrow, where her temperature was normal.
Her temperature was taken a further six times within 30 minutes, but it was normal each time and she was cleared to fly home to Scotland.
Nicola Sturgeon told the Scottish Parliament that protocols at airports had already been reviewed to try to prevent passengers with the disease boarding flights.
She said: "The risk to the public in Scotland from Ebola continues to be very low.
"Scotland is well prepared to deal with cases of this nature. We have well-tested NHS systems for managing unusual infectious diseases when they arise.
"This government will ensure that these measures are robust, that the public continues to have up to date and accurate information about Ebola, that screening procedures are as effective as possible, and that when it is necessary, which is hopefully rarely, that patients will get the best possible care and treatment."
Vaccine trial
Scientists at Oxford University have begun immunising healthy volunteers with a new Ebola vaccine.
The 72 volunteers in Oxford are the first humans to receive the vaccine.
Initial tests in monkeys showed the vaccine, developed by Janssen Pharmaceutical Companies of Johnson and Johnson, gave complete protection.
The trial organisers stress the vaccine cannot cause anyone to be infected with Ebola.