Christmas closures - plan ahead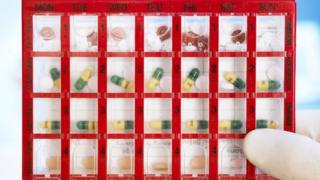 On the twelfth day of Christmas...could we be hitting the phones trying to get a GP appointment or turning up at our local surgeries?
The question is worth asking because the much-reported pressures on the health service may be compounded over the festive period by the holiday closure of many surgeries and community care services.
In Scotland, practices will close for a total of eight days because of the way the bank holidays fall.
The NHS in Scotland is well aware of the calendar quirk which will see GP surgeries close for two blocks of four days each - Christmas Day, Boxing Day followed by a weekend and then January 1st and 2nd ( a bank holiday in Scotland) and another weekend.
It has, of course, happened before but this is a year when there has been a relentless rise across the UK in patient numbers and emergency admissions to hospitals.
Lack of knowledge of GP opening hours, perhaps even frustration about difficulties getting an appointment, have been cited as contributory factors to increased attendances at A&E units.
Self care
Scottish health chiefs have been consistently putting out the message that patients should think about their needs, such as cold and cough remedies, and get repeat prescriptions organised.
Pharmacists have been reminding people that they can give advice on a range of ailments and many have consulting rooms for private discussions with patients. Most pharmacies will be closed on bank holidays though open on the two Saturdays after Christmas and New Year. Each large town and city should have at least one pharmacy open on the public holidays.
A&E units are already under strain and have been preparing for the holiday season with some trepidation. Their concern is not so much with GP practice closures but with those elements of social care which close down over Christmas and New Year. They are worried that the elderly are more likely to need hospital treatment if community care is reduced to minimal levels on four successive days.
Prof Jason Leitch, Clinical Director of the Scottish Government's Quality Unit, emphasised the importance of visiting elderly relatives or neighbours to check on their condition.
"We are trying to stop them having to have a visit unnecessarily to some kind of healthcare - so if we can self manage that with family and friends and the patients themselves, that's got to be better for them."
This echoes the message from NHS England about loneliness and isolation causing a spike in A&E admissions over Christmas.
Advice over the phone, via the 111 service, will play a big part in handling the health needs of people in England and Scotland during the Christmas and New Year holiday period. Management at the Scottish service, run under the NHS 24 branding, have been planning for some time for the two four-day periods when GP surgeries are closed.
The normal call volume of 4,000 a day will rise to more than 10,000. January 2nd tends to be the busiest day. Referring patients to out of hours GP services, directing them to pharmacies which are open for emergency repeat prescriptions, and suggesting remedies which do not involve a visit to A&E will be an important part of their work.
GP practices will be closed, as usual, for several days in all parts of the UK.
England, Wales and Northern Ireland have the same four consecutive days of closures as Scotland over Christmas.
Health chiefs are adamant that the NHS will provide a round the clock service for those who need it over the holiday season. But they probably could have done without the 2014 calendar in a year when patient numbers have been at or close to record levels.