Tackle loneliness to curb A&E pressures - NHS says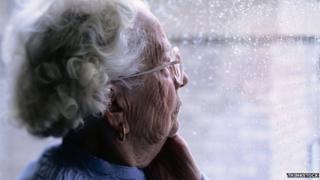 NHS leaders are urging people to look in on elderly friends and neighbours over the Christmas period to ease pressures on hospital A&E departments.
They warn loneliness and isolation can increase the risk of emergency hospital admissions.
They say people are more likely to report health problems in good time if they have someone to talk to .
The Patients Association says the service could be heading for a "crunch weekend".
Hospitals and ambulance services are already coming under enormous pressure this winter.
Figures released on Friday showed in England there were more than 440,000 visits to A&E the previous week - a rise of 6% on the same period last year.
Emergency admissions reached record levels, rising to more than 111,000.
'Spike' in admissions
NHS leaders say they want to keep people out of busy A&E departments "as far as possible".
They are worried that over the festive period the impact of loneliness and social isolation could cause a major "spike" in admissions.
Prof Keith Willett, NHS England's national clinical director for acute care, cited a recent study in south west England in which 45% of elderly patients admitted as an emergency said they were socially isolated.
"We are calling on the public to think about those people living nearby who might benefit from a visit.
"If they see other people they are more likely to mention a health problem and then are more likely to seek help early."
And - with GP surgeries closed for some of the festive period - Prof Willett reminded people to order medicines in good time so they do not run out.
Lifesaving services
It is a similar message across the UK for the festive period.
In Scotland, Shona Robison, cabinet secretary for health, wellbeing and sport, said people should think through their options.
"We are encouraging people to make themselves aware of the services available to them over the festive period and think about where best to turn if their condition is not life-threatening.
"NHS 24, the local pharmacy, the GP surgery or minor injuries unit may be the better place to go rather than a busy A&E unit, keeping emergency lifesaving services free for those who really need them."
The chairman of the Patients Association, Dr Mike Smith, said there was a risk people could "completely swamp" A&E departments because of a lack of faith in out of hours services.
"We need a new way of providing 24/7 community services, it's going to have to evolve, the current situation is very difficult for people to cope with."
Speaking for the British Medical Association, Dr Chaand Nagpaul, said services were in place to help people without them having to turn straightaway to their nearest hospital emergency department.
"There is a service available through the bank holiday period. People can get to see a GP if they need to through NHS 111.
"Knowing that, there is no need to feel they have to rush to A&E."