Report calls for more support for vulnerable doctors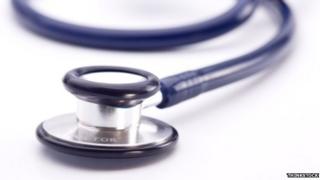 Up to 28 doctors took their own lives between 2005 and 2013 while being investigated by the General Medical Council, a review of cases has found.
Many had suffered from mental health, drug or or alcohol problems.
The independent report recommends that a national support service be set up to help vulnerable doctors.
The GMC, which investigates about 3,000 complaints about doctors each year, said its processes should be "quick, simple and low stress".
The independent report, based on a review of GMC cases over eight years, found that 24 doctors undergoing fitness to practise investigations were classified as "suicide" and four as "suspected suicide".
Many of the doctors suffered from a recognised mental disorder, such as depression, bipolar disorder and personality disorder, or had addiction problems.
Other factors in their deaths may have included marriage breakdown, financial hardship and the impact of the GMC investigation.
The report calls on the GMC to treat every doctor as "innocent until proven guilty".
It also recommends appointing a senior medical officer from the GMC to oversee cases involving doctors with health problems.
'Stressful experience'
The GMC said it has made significant improvements to its fitness-to-practise investigations process in recent years - but recognises that it could offer more support to doctors.
Niall Dickson, chief executive of the General Medical Council, said: "We know too that for any doctor, being investigated by the GMC is a stressful experience and very often follows other traumas in their lives.
"Our first duty must, of course, be to protect patients but we are determined to do everything we can to make sure we handle these cases as sensitively as possible, to ensure the doctors are being supported locally and to reduce the impact of our procedures."
He said the aim was to handle complaints as quickly and effectively as possible.
The GMC will now review it procedures for dealing with doctors with health problems.
Dr Clare Gerada, medical director of the Practitioner Health Programme, a support service for doctors in London, said she welcomed the review.
"They [the GMC] need to continue to show their commitment to reducing the impact of fitness-to-practise investigations on vulnerable doctors whilst always maintaining patient safety - a substantial task.
"Doctors are sometimes patients too and supporting vulnerable doctors is a shared responsibility."
Dr Gerada said the British Medical Association, the Royal College of Psychiatrists and the Practitioner Health Programme should all be involved in implementing the GMC's recommendations.
Dr Michael Devlin, the head of professional standards and liaison, at the MDU said: "We welcome the acknowledgment that delays in GMC investigations increase the stress on doctors and also that there should be a presumption of innocence until allegations about a doctor's conduct, performance or health have been fully and properly investigated.
"Doctors facing GMC investigation need the help of their medical defence organisation and the MDU's medico-legal advisers and lawyers are usually the first port of call for professional and personal support."