Car smoke ban 'to start in October'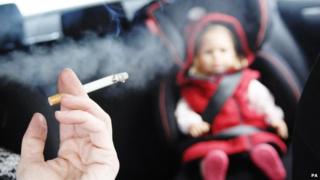 Smoking in cars with children will be banned in England, under new laws put forward by the government.
The regulations laid before Parliament propose banning smoking in cars containing under 18s.
A fine of £50 will be issued to people who smoke or who fail to prevent another person smoking.
MPs will vote on the plans before the election - and if they are passed the change in law will come into force on 1 October.
The move comes after a free vote in Parliament in February gave ministers the power to introduce the law, although it did not compel them to.
Public health minister Jane Ellison said: "Second-hand smoke is a real threat to children's health and we want them to grow up free from the risks of smoking.
"The only effective way to protect children is to prevent them breathing second-hand smoke and our plans to stop smoking in cars carrying children will help us to do this."
---
Smoking in cars
Smoke can stay in the air for up to two and a half hours even with a window open.
Second-hand smoke contains more than 4,000 chemicals, some of which are known to cause cancer.
Exposure has been strongly linked to chest infections, asthma, ear problems and cot death in children.
Research indicates 300,000 children in the UK visit a GP each year because of the effects of second-hand smoke, with 9,500 going to hospital.
Smoking in a car creates a higher concentration of toxins than in a bar, some research has put it at 11 times higher.
Bans on smoking in cars when children are present already exist in some US states, including California, as well as in parts of Canada and Australia.
---
Deborah Arnott, chief executive of Action on Smoking and Health, said: "We are delighted. We also urge the government to put the regulations on standardised packaging to Parliament before the general election.
"This, together with the protection of children from second-hand smoke in cars, will help de-normalise smoking and protect children from this deadly addiction."
But Simon Clark, director of smokers' lobby group Forest, said: "The government is taking a sledgehammer to crack a nut. The overwhelming majority of smokers know smoking in a car with children is inconsiderate and they don't do it.
"The regulations are unnecessary and excessive. Do we really want to criminalise people for lighting a cigarette in a private vehicle?"
A ban on smoking in cars has also been put forward in Scotland and Wales. Northern Ireland said it was considering a ban.