Broadmoor to test camera that monitors vital signs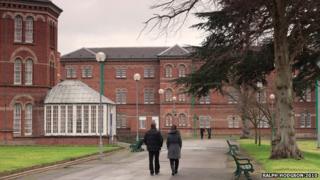 Broadmoor is to test a camera that remotely monitors patients' vital signs such as heart and breathing rate.
It is hoped the device will alert staff early to any attempts to self-harm and spare patients disruptive night checks.
Testing with the remote monitoring devices will begin in the new year, initially with volunteer staff.
If successful, the technology may be extended to other settings, including prisons, care homes, and even car dashboards.
Broadmoor is notorious for housing violent criminals. But it is a high-security psychiatric hospital, not a prison, taking care of 200 men with severe mental health problems including paranoia, schizophrenia or personality disorders.
It is now helping to develop a new system of patient surveillance, using cameras, or "optical monitors", in secure rooms to detect patients' vital signs - initially their breathing and heart rates.
Night-time checks
At the moment staff have to carry out routine checks on patients up to four times an hour through the night. This often entails flashing a torch, switching on a light or entering a secure room.
The clinical director at Broadmoor, consultant forensic psychiatrist Dr Amlan Basu, says if this job could be done by cameras, it would allow staff to concentrate on the patients who need help most.
"My hope is that by achieving accuracy of data and reassurance, nursing staff will be freed up to perhaps spend their time more effectively by actually engaging with patients rather than having to walk round a ward checking on patients being alive and well."
A patient I spoke to, who has been at Broadmoor for nearly four years, told me the night-time checks were frustrating and disturbing.
He welcomed the idea behind the cameras, though he felt some patients may not want them.
"I think it's a better solution than staff going around and turning the lights on at night time and checking on people every half an hour because you're in the dark and they don't know if you're breathing or not.
"Turning on the light, they've got to wait to see if you're breathing - but an infra-red camera that films you and can see is better than the human eye."
Broadmoor is working with the hi-tech firm Oxehealth, which has already tested this technology alongside conventional monitors with kidney patients and premature babies at Oxford University Hospitals Trust.
The initial results - peer-reviewed and published - were good.
Microblushes
The camera works by monitoring chest movement to estimate the breathing rate.
It also detects subtle changes in skin colour on the face - or "microblushes" - produced by movement of the blood, driven by pulse-beats. Then - using sophisticated algorithms - it calculates the heart rate.
The device - which works in bright light or darkness - is being developed to identify blood oxygen levels, blood pressure and the patient's temperature.
Oxehealth's chief executive, Jonathan Chevallier, says there is no problem with privacy because the camera does not send images.
He suggests the technology has great potential for use in the home.
"If you're over the age of 65 you probably have friends who've had a stroke.
"You probably don't spend too much time thinking about it because it's a bit scary, but if you knew there was a technology you could have in your home, silently monitoring you, just checking you're OK, and it's going to detect when you're developing an irregular heartbeat so you can see your doctor and avoid a stroke, I think that's a massive benefit."
Placed discreetly in the wall of a secure room, the camera will be tried out with staff volunteers at Broadmoor in the new year.
Then, if all goes well, it will be tested with patients who have given their consent.
A senior nurse at Broadmoor, Neil Ragoobar, says many will welcome the opportunity for undisrupted sleep.
He says this type of remote monitoring should help relations between staff and patients and improve safety.
"If they know they've got a patient who's a chronic self-harmer and those vital signs are going outside of the normal parameters, it alerts the nurse that there could be something going on here, under the covers or whatever, and they can investigate before it becomes a life-threatening situation."