New health money: solution or sticking plaster?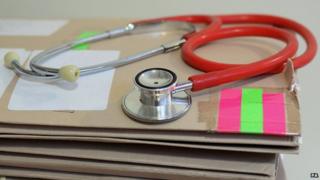 There has been a cautious welcome from many parts of the NHS for the government's announcement of new money for the next financial year.
Most are relieved that a painful financial squeeze has been headed off. Equally, they are aware that a lukewarm response to ministers finding more money for health at a time of tough controls on other areas of Whitehall would not look good.
But from one influential group representing GPs, pharmacies and other organisations in primary care came an interesting perspective - it's not all about the money.
The NHS Alliance is chaired by Dr Michael Dixon and, in a letter to The Guardian newspaper, he sets out his view that a fundamental rethink of community medicine and the role of GPs is needed.
'Tipping point'
Dr Dixon is quick to welcome the Autumn Statement's commitment to new investment in general practice. This will see £300m a year, culled from fines paid by banks for foreign exchange misdemeanours, made available for four years. But he believes there are deep-set problems which cannot be solved by cash on its own.
In his letter he says: "GPs are on their knees, new GPs are scarce... general practice is at a tipping point."
He urges doctors to stop working up to 14-hour days as it affects their ability to provide consistent patient care. And he talks of a "developing fracture between patient and doctor due to a mismatch in expectation and reality".
In other words, the patient has a duty along with health professionals to help reshape primary care as "responsive and responsible citizens".
Dr Dixon's wish list is headed by a call for GPs to abandon silos and reach out to colleagues such as pharmacists and hospital consultants. The edges between primary and secondary care should blur and be dissolved, he says. He believes each local area should have a "community health connector" to bring health, social care and local authority sectors together.
It may sound utopian but the NHS Alliance perspective seems in tune with the five-year view for NHS England set out by Simon Stevens. Breaking down barriers, acting locally and integrating care are buzzwords which have been heard frequently in the debate about the document since it was published in October. Deciding what that means in practice is work in progress.
While big thoughts are batted around in the corridors of NHS power, the financial reality facing some health economies was graphically illustrated with news from one of England's largest clinical commissioning groups (CCGs).
The Northern, Eastern and Western Devon CCG has announced temporary restrictions on some types or surgery as it grapples with a mounting financial deficit. Severely obese patients have been told to lose weight or face missing out on routine surgery. Smokers have been instructed to give up at least eight weeks before surgical procedures. Certain types of shoulder surgery will be limited and there will be restrictions on additional hearing aids.
These measures taken in some parts of Devon may or may not represent a "canary in the coal mine". The moves affecting obese patients and smokers have precedents in other areas. But they strengthen the case for urgent new thinking.
The cheque is in the post from the chancellor - but it won't on its own provide the answers.