Delayed discharges in England reach record high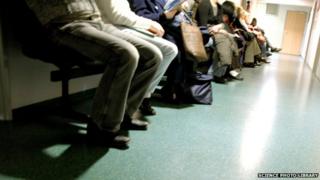 Delays in discharging patients ready to leave hospital rose to record levels in England last month, official figures show.
Patients spent a total of 143,000 days in hospital when they should have been sent home.
In a further sign of growing pressure on the system, the number of emergency admissions also reached record levels.
The Department of Health said there were plans in place to manage the extra demand.
Delayed discharges can be distressing for patients stuck in hospital.
They indicate a system under stress which is unable to free up beds because of problems arranging suitable support from care workers or district nurses.
Official NHS figures show that last month the number of delays reached a record high.
The total number of "days delayed" rose to 143,118, the figure for October 2013 was 123,852.
Experts say the true situation is even worse because a lot of delays are not formally counted.
Pressure growing
Pressures are likely to grow as winter approaches.
Last week there were nearly 110,000 emergency admissions - another record high.
Hospital bed occupancy rates are also high due to more patients being admitted and problems in discharging those who are ready to leave.
Richard Murray, the director of policy at the health research group The King's Fund said this was a particular problem for mental health services.
He expressed concerns about how the NHS would cope in the coming months.
"You do wonder how much further the situation will have to go before we have a classic winter crisis," he said.
Extra demand
A Department of Health spokesperson said planning for winter had been underway since June.
"We've given the NHS an extra £700m to buy thousands more doctors, nurses and beds this winter. NHS England has ensured there are plans in every area to manage the extra demand."
There was a slight improvement last week in the number of patients seen and treated in A&E within four hours compared with the previous seven days.
But the latest figure, 93.9%, still falls short of the official target of 95%.
Labour has seized on the rise in delayed discharges.
Shadow health secretary Andy Burnham urged the prime minister to intervene to prevent what he called the "collapse" of social care.
"It is truly sad that record numbers of older people are trapped in hospital when they are well enough to be at home.
"This sorry state of affairs is a direct result of David Cameron's decision to take home care away from hundreds of thousands of older people. It is a false economy that is piling pressure on hospitals and is a root cause of the A&E crisis."