Flu: Vaccine ' given to too few young children'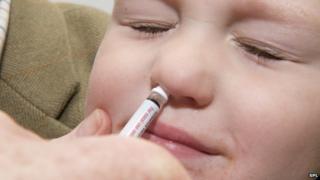 Too few toddlers are having the seasonal flu vaccine, warns the chief medical officer for England.
The latest figures show fewer than one third of two to four-year-olds are getting the nasal spray.
The uptake is down on the same point last year, the first time children were routinely immunised against flu.
Public Health England said that young children were "super-spreaders" and stopping flu in children would protect their parents and grandparents.
Last winter was a relatively mild flu season and health agencies have already warned of complacency when it comes to getting immunised.
More than two million toddlers are being targeted in vaccination campaigns.
But immunisation rate data up to 23 November shows:
28.5% of two-year-olds had been immunised, down from 34.1% this time last year
30.5% of three-year-olds had been immunised, slightly down from 30.6% this time last year
23.9% of four-year-olds had been immunised
Figures also released by Public Health Wales show 78% of children are unvaccinated there.
Part of the problem is awareness.
Two and three-year-olds were vaccinated for the first time last winter and the programme has been extended to four-year-olds this year.
But Prof Dame Sally Davies, the chief medical officer for England, said half of mums were unaware that the vaccine existed or that children needed vaccinating every year.
She said: "Flu can be really nasty for toddlers, leading to time off nursery which has a big impact on mums and dads and sometimes even a stay in hospital.
"They also spread the virus easily and often pass flu to grandparents and other relatives who can become very ill, fast.
"Giving two, three and four year olds the free nasal spray really is in everyone's interests if you want to help avoid a miserable winter for all the family."
Spray not jab
Children get a different vaccine from that given to other at-risk groups such as elderly people, pregnant women and those with other conditions that affect their health.
The vaccine for children contains a weakened form of the live flu virus which is sprayed up the nose whereas the traditional flu jab contains dead virus and is injected in the arm.
The ambition is to gradually extend vaccination to all two to 16-year-olds.
On average, every person with flu passes on the infection to two people every two days.
And children are more likely than most to spread flu. The vaccination programme is aimed at reducing flu in children and in turn cutting cases in at-risk groups.
Prof Nick Phin, from Public Health England, told the BBC: "This is a new programme, last year was the first year and the figure was just over 40% which for the first year of a new programme is really good.
"We use the term super-spreaders; they're very effective at spreading flu.
"The amount of virus you get from a child is much higher than an adult and they shed the virus for much longer.
"Children are very effective at spreading flu. You just need to look at a child with a cold - the dripping nose: they wipe their hand across their face and then touch something."
Symptoms of flu include fever, sore throat, aching muscles and extreme tiredness.