Elderly people: thousands 'left struggling' at home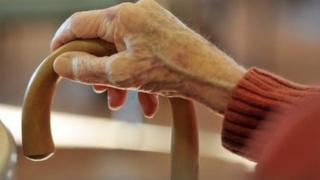 Thousands of older people in England are struggling in their own home with little or no help, research suggests.
The analysis by the Independent Age charity and Strategic Society Centre think tank indicates more than two million have difficulty with washing, dressing, cooking or eating.
And of the 560,000 of these with severe needs, 160,000 receive inadequate help while another 70,000 have none at all.
Some 850,000 older people have help paid for by themselves or the council.
But over the years state-funded services have been increasingly rationed.
Meanwhile, 30,000 older people care for others in situations considered a risk to their health and wellbeing - alone and for at least 20 hours a week.
---
Older people and care in numbers
There are 8.6 million people in England aged 65 or above
Of these, about four million are living at home with limited day-to-day activities, although some of these have needs classed as low-level
Of these, more than two million have difficulty with one or more daily tasks, such as washing, dressing, cooking or eating
Of these, about one in four - 560,000 - have needs classed as severe
Of these, 160,000 say the help they receive is inadequate and another 70,000 receive no help, paid or unpaid
850,000 older people receive paid help funded by themselves or their local authority
Another 1.5 million rely on unpaid care from friends and family
30,000 older people care for others in situations considered a risk to their health and wellbeing
Source: Independent Age and Strategic Society Centre based on 2011 to 2013 data
---
The two groups looked at:
census data
government figures
the English Longitudinal Study on Ageing
They said the research "highlights alarming gaps" in the system and raised questions that needed addressing ahead of April 2016, when care costs will be capped at £72,000 over a person's lifetime.
Independent Age policy director Simon Bottery said it "defies belief" how those who did not receive the right care were getting by.
Without better support, there would be a knock-on effect on the NHS with more older people seeing their health suffer, he added.
Councillor Izzi Seccombe, of the Local Government Association, said councils were doing their best to prioritise care, but budgets were being squeezed.
"The next government must make sure that [it] puts adult social care on a sustainable financial footing to keep people out of hospital and support them in their homes for as long as possible.
"Failure to do so would mean some services will be tipped into failure and leave the most vulnerable members of communities worried and at risk of losing essential care."
A Department of Health spokesman said the cap along with next year's £5.3bn Better Care Fund - mainly funded by NHS money but earmarked for projects that aid social care - would help improve the situation.
"Councils are ultimately responsible for deciding how to spend their budgets, but with a growing ageing population we know that we all need to work differently."