Fifth of millennium babies 'obese' by age of 11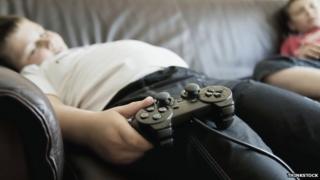 One in five children born at the start of the millennium was obese by the age of 11, according to a major study.
The Millennium Cohort Study, which follows 13,000 children born in the UK, showed a sudden surge in obesity between the ages of seven and 11.
Experts said the figures were worrying and some called for mandatory weight monitoring of children.
In Wales and Northern Ireland, 40% were obese or overweight. The figures were 35% in England and 33% in Scotland.
The Institute of Education in London analysed data on the children's height and weight at ages three, five, seven and 11.
The proportion who were obese was roughly constant, between 12% and 13%, until age seven. But shot up to 20% at 11.
There was a similar pattern in the proportion classed as either overweight or obese, which went from 25% at age seven to 35% at age 11.
'Family obesity'
Lead researcher Dr Roxanne Connelly told the BBC: "To be honest, unfortunately I wasn't surprised.
"Generally healthy weight children were becomingly increasingly overweight or obese so parents should be vigilant of even healthy weight children.
"But this is a whole family problem, parents who are overweight are handing it down to their children in a vicious circle."
Children with obese mums were the most likely to be obese or overweight.
"If we could help mothers with weight loss, then they could pass that on to their children," Dr Connelly said.
The National Obesity Forum called for children to have their weight checked more regularly to tackle the obesity epidemic.
Spokesman Tam Fry told the BBC: "Up to now we have known only that the rate of excess weight has doubled between primary school entry and exit but not when.
"It should be now be mandatory that every child's weight and body mass index be monitored at seven to identify and intervene with children piling on excess pounds before it continues to escalate."
Unhappy
The study also showed the impact of obesity on wellbeing.
More than 10% of obese children had low self-esteem, compared with 7% of healthy-weight children.
And only 34% of obese children were happy with their looks, compared with 43% of healthy-weight children.
Dr Ann Hoskins, the director of the healthy people division at Public Health England, said: "It is deeply concerning that there is a virtual doubling of obesity rates from Reception to the end of primary school and that it is particularly worse for children from low-income households.
"Parents and carers can help their children maintain a healthy weight by following a balanced diet, ensuring portion sizes are not too large and avoiding sugary drinks and sugary or fatty snacks.
"Children also need a minimum of 60 minutes of moderate to vigorous exercise each day, which can be achieved in one session or through shorter bursts of 10 minute activity."