'Silver surfers' may be more health-aware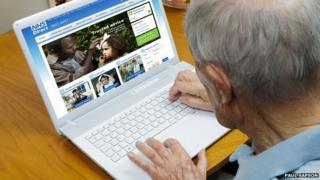 Older people who use the internet and take part in cultural activities may be better equipped to keep on top of their health, research suggests.
The findings come from a study of 4,500 adults aged 50 and over in the Journal of Epidemiology and Community Health.
Participants' understanding of medicine labels and their hobbies and interests were recorded.
The authors say internet use and going to the cinema or concerts may aid the processing of health information.
Research has already shown that "health literacy" tends to get worse with age.
Yet it is a vital part of helping people to manage their chronic conditions and even avoid early death.
Health savvy
The authors of the latest study followed participants from 2002 to 2011, twice testing their skills at reading about and processing health information - measured by the ability to read and answer questions on a fake medicine label.
And every two years they asked them about hobbies and interests.
After taking into account factors which might influence the results, such as wealth, education, whether or not they had a long-term illness or were suffering from memory loss, the researchers found that regular internet use and engaging in cultural activities seemed to protect the ability to be "health savvy".
Overall around 40% of the people in the study said they never used the internet or email, while a third said they did regularly and 39% said they regularly went to the cinema, theatre, galleries, concerts or the opera.
The researchers acknowledge that not everyone might be able to afford and access cultural activities. And that people who are able enjoy a rich social life and keep up with technology may be more physically fit to begin with. But they believe these activities have a positive impact in their own right.