MPs back bill designed to limit NHS 'privatisation'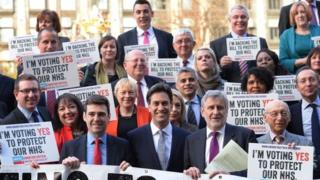 A bill which aims to curb the private sector's role in the NHS has cleared its first parliamentary hurdle.
Under the bill, compulsory tendering for NHS contracts would end and NHS hospitals' income generated by private patients would be restricted.
Although MPs backed it in a vote by 241 to 18, as a private member's bill it has only a slim chance of becoming law.
The government insisted its priority was to ensure care was "delivered in the right way for patients".
Labour MP Clive Efford brought in the bill, which he said would "cut the heart out" of the coalition's reforms.
It would restore ultimate responsibility for the NHS to the health secretary, stop NHS hospitals earning up to 49% of their income from private patients, and would exempt the NHS from an EU-US trade treaty known as TTIP.
Critics fear TTIP could lead to American companies suing future governments for reversing privatisation.
Those who voted in favour of the bill included two Conservative and seven Lib Dem rebels.
Introducing his bill, Mr Efford said the argument boiled down to a division between those who believe the NHS "should be a pure market" and those who think it should "put the interests of NHS patients first".
He said the legislation would "take a scalpel to cut the heart out" of the 2012 Health and Social Care Act that underpinned one of the biggest reorganisations of the NHS in England.
'Toxic mix'
His words were echoed by shadow health secretary Andy Burnham, who warned: "If the government continues on its current course, the NHS will be overwhelmed in the next Parliament by a toxic mix of cuts and privatisation."
Mr Burnham promised that even if the bill did not become law, Labour would repeal the 2012 Act.
The bill also drew support from newly elected UKIP MP Mark Reckless, saying he had previously been "guilty of having believed the undertakings I was given by those on the government frontbench" about the NHS reforms.
Health Minister Dan Poulter defended the government's reforms and pointed out that the Labour government under Tony Blair had introduced competition in the NHS.
He told the Commons: "It is important the NHS is not used as a political football and services are always designed and delivered in the right way for patients.
"There is often too much scaremongering in these debates."
The government argues the reforms to the NHS in England are saving at least £1.5bn a year.