Mental health NHS trusts ranked for risk of poor care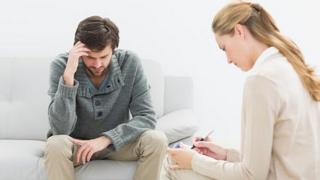 Health watchdog the Care Quality Commission (CQC) has ranked almost every mental health NHS trust in England in terms of risk of providing poor care.
The majority are of low concern, but 12% have been rated in the highest risk band by the CQC.
The high-risk trusts had problems with issues such as cleanliness, dignity of care and concerns raised by patients.
The CQC register will help target inspections.
Of the 39 banded mental health trusts, five are in band one, 16 are in band two, two are in band three and 16 are in band four.
Band one is where the risk of poor care is highest and band four is where it is lowest, according to the data.
Dr Paul Lelliott, deputy chief inspector of hospitals, and lead for mental health, said: "While the bandings are not judgements of quality, we hope NHS trusts will use our analysis to reflect on where they may need to improve.
"It is encouraging that of the mental health NHS trusts within bands, over a third are of lowest concern.
"Those that give us the greatest concern will be prioritised for inspection so that we can be confident people receive safe, high-quality and compassionate care."
Care issues
Areas of concern in some mental health trusts included a poor physical environment for patients, a lack of beds and difficulties accessing safe places during a mental health crisis.
There are 57 mental health NHS trusts in England in total. The 18 not banded in this analysis have already been inspected under "a tougher and expert-led regime", the CQC said.
This is the first time that the CQC has published "intelligent monitoring" for mental health NHS trusts.
Mental health trusts care for people with serious mental health problems and offer services, such as counselling and psychological therapies, and community and family support.
Earlier this week, it published similar information for GP practices in England.
Care Minister Norman Lamb, said: "People with mental illness deserve the best possible care. These initial figures give a useful indication of varying standards around the country. By highlighting both good and bad, we can drive up standards everywhere."
Paul Farmer, chief executive of Mind, the mental health charity, said patients have the right to expect safe, speedy access to the services they need.
"While we know that in some parts of the country services are very good, in too many places services are failing people when they are unwell.
"We are pleased to see that the CQC is looking to listen to the views of both staff and people who use services and making the most of the intelligence available to really get behind the scenes of mental health services."