Pork gelatine flu spray concerns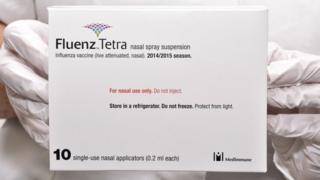 A flu vaccination programme in Lancashire has been criticised by some Muslim groups during the latest stage in its roll-out, in Lancashire.
The nasal spray, offered to young children, contains porcine gelatine, an ingredient derived from pork.
Consuming pork is considered haram or forbidden in Islam, making inhaling the vaccine unacceptable.
However health experts say the spray is the best way of protecting children against flu.
The spray has already faced the same criticism when it was piloted in Leicester and Scotland.
Last year, Muslim groups in Leicestershire called for labelling of all ingredients after parents who had not been informed of the contents of the spray became distressed.
Similar concerns were raised in Glasgow where the immunisation was delayed as a result.
The pilot of the Fluenz spray was rolled out last year as a preventative measure to protect children aged two, three and four years old.
In some parts of the country all primary school-aged children and secondary school-aged children in years seven and eight will also be offered the vaccine as part of a pilot programme.
Over time, as the programme rolls out, potentially all children between the ages of two and 16 will be offered vaccination against flu each year with the nasal spray.
'Acceptable'
Zaheer Mahmud, a parent from Blackburn says his local mosque have advised parents not to give consent. "I wouldn't give consent. I don't see what the need is. From what the local Imam said and from my own personal feelings, I don't see the point"
Muslim groups are calling for more awareness about the contents of the spray so parents can make an informed choice about taking the vaccination.
Dr Shuja Shafi, General Secretary of Muslim Council of Britain, says more information about the content and the benefits of the vaccine will help parents make the decision whether or not to vaccinate their children.
Flu is an acute viral infection of the respiratory tract. Tens of thousands of people are hospitalised each year because of it.
Public Health England has acknowledged that some Muslims may consider the spray to be forbidden.
They now advise parents about the content of the spray, but stress that there is no suitable alternative to Fluenz.
Dr Mary Ramsay, head of immunisation at PHE, says, "We strongly recommend that anyone whose child is offered immunisation accepts this opportunity to give their child the best protection possible against the flu virus."
But Abdul Hamid Quershi from Lancashire Council of Mosques says health officials should be looking into finding other options to porcine gelatine. He says, in the future they should find substitutes that'll accommodate religious beliefs.
Porcine gelatine has been certified as acceptable by many multi-faith groups. It's used in many pharmaceutical products, not just Fluenz.
Parent Zaheer Mahmud says he doesn't think not giving the vaccination to his child will make any difference, "Not giving Fluenz jab to a child will not be the end of the world"
He prefers sticking to the more traditional methods instead. "If my child gets affected by flu, I take him to the GP and take him out of school. Usually, the advice is rest and a lot of fluid."