Heart infection rates rise after antibiotic use cut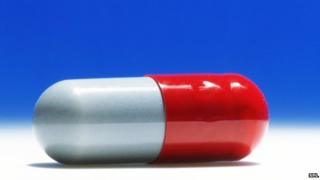 Rates of a deadly heart infection have increased after guidelines advised against giving antibiotics to prevent it in patients at risk, research shows.
In 2008, the advisory body NICE said to stop giving antibiotics to prevent infective endocarditis in patients due to undergo invasive dental procedures.
A study in The Lancet shows prescriptions dropped by about 80%.
At the same time, rates of the infection rose by an extra 35 cases a month.
The UK researchers, from the University of Sheffield and other institutes, stressed that there may be other reasons for the increase. The condition is also still relatively uncommon, affecting fewer than 10 in 100,000 people a year in the UK.
The British Heart Foundation says the evidence for and against is not clear cut - antibiotic prescribing is not risk free.
NICE said it would immediately review its guidance on the basis of the study but until that was done the existing advice should be followed.
Heart risk
Infective endocarditis is a rare infection of the tissue that lines the chambers of the heart.
It is hard for the immune system to fight and particularly dangerous in people who already have certain heart problems such as artificial valves or congenital heart disease.
In these individuals, the risk of dying after one year can be as high as 50%.
European and US guidelines still recommend giving antibiotics as a preventive measure in high-risk patients before having dental work and other invasive procedures such as colonoscopy, but NICE had advised stopping the practice because of a lack of evidence.
The 2008 guidance, which had recommended other measures to prevent infection, was controversial and caused a lot of debate among cardiologists and dentists.
Significant rise
Analysis of the data found that between 2004 and 2008 there were, on average, 10,600 prescriptions a month of antibiotic prophylaxis for the prevention of infective endocarditis.
Between 2008 and 2013 this fell to an average of 2,236 prescriptions a month and by the end of the study (31 March 2013) had dropped to 1,307 a month.
While the rates of infection were on the rise, soon after the NICE guidance came in rates increased significantly over what would have been expected, say the researchers.
From the data, the researchers calculated that 277 antibiotic prescriptions would have to be given to prevent one case of infective endocarditis.
Study author Dr Bernard Prendergast, a cardiologist at Oxford University Hospitals NHS Trust, said it had been important to investigate the impact of the NICE guidance but they could not prove a causal relationship and other explanations such as a change in the bacteria, or patient population were possible.
"What is really needed is a randomised controlled trial to address the problem definitively but you would have to do a very large study which would be very expensive and very challenging."
Professor Mark Baker, Director of the Centre for Clinical Practice at NICE, said: "Where new evidence has called into question the safety of current guidance, it is right that we review that guidance as quickly as possible."