Better sex-and-dementia care call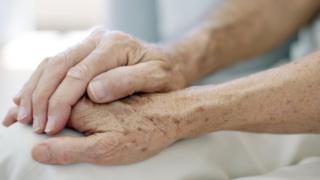 Better training is needed for dementia carers to deal with issues around relationships, intimacy and sex, the Care Quality Commission has said.
It told the BBC it was looking at how staff tackled such issues, as part of its new inspection regime, which began last month, for care homes in England.
The Alzheimer's Society said training and awareness about intimacy was "hit and miss".
The Department of Health said care homes should follow guidelines.
Alzheimer's Society director of operations Kathryn Smith said care workers tackled difficult situations every day and all care homes should put specific policies in place to help them.
"There's no mandatory level of training for people working with dementia," she said.
"That means it often comes down to the judgement of the manager of the care home and the resources they have available."
Care homes should work with families to manage potentially difficult situations, Ms Smith said.
"These can be very sensitive conversations to have, so it is vitally important that staff have the right level of training and awareness in this area," she said.
Eve Carder, who was senior nurse manager at Landermeads Nursing Home, in Chilwell, just outside Nottingham, told BBC Radio 5 live's Breakfast programme the staff were regularly faced with tricky dilemmas.
"One situation in particular involved a lady and a gentleman who were both married before [not to each other] and living with a form of dementia," she said.
"They believed they were living in a different reality where they were in a relationship together as husband and wife.
"They would walk round the care home hand in hand, sit on the sofas within the lounge area and cuddle up together.
"Occasionally they'd lie down on a bed together.
"Care staff and nursing staff management found the situation very difficult to manage because they saw it as wrong.
"They saw the gentleman's real wife very distressed.
"She would come in and openly cry and voice that she couldn't handle seeing her husband with another woman.
"At one point in a conversation, it was likened to him having an affair."
Eventually, Ms Carder said, his wife had agreed to telephone 20 to 30 minutes before her arrival to allow staff to separate the "couple".
But that had caused a lot of negative feelings because they had been unable to fully comprehend the situation.
Sensitivity
Ms Carder said it was important families understood people living with dementia could not rely on logic or reason.
"They are overwhelmed with feelings and trying to make sense of the world around them," she said.
"And they will seek comfort, attachment and love in a way that feels right at that time.
"The man didn't recognise his spouse as his wife anymore, but it didn't mean he didn't connect with her.
"His reactions were very positive on her visits, but that's because she dropped the part of trying to bring him back to reality.
"She just came in and loved him for who he was in that moment.
"It was really hard for her, and it's a massive step for families - but it is possible to work with families and create culture of change through education."
Karen Tidy, a senior nurse at Landermeads, said: "One lady will always be seen kissing another lady or man on the lips just as an outward expression of her affection and love for people, and we embrace that.
"We embrace people feeling that they are fulfilled and experiencing love and comfort from each other.
"It's not a problem to us. There's no management strategy, we're just happy to see people connecting emotionally."
But Prof Julian Hughes, consultant in old age psychiatry at North Tyneside General Hospital, said changes in sexual behaviour were not always so benign.
"It's a form of sexual disinhibition," he said.
"Mostly this is put down to problems with the front of the brain, which controls our personalities, and if it's damaged by dementia then people can start to do things they wouldn't otherwise normally do.
"That can show itself in terms of aggression, but it can also show itself in terms of sexual behaviour."