Why the NHS is facing a tricky winter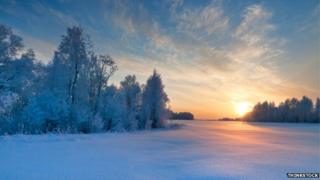 This is the time of year that NHS bosses - and their political masters for that matter - start to look at the weather forecasts.
A bad winter can make a huge difference to the health service. A cold snap increases the number of falls and amount of respiratory illness, while the vomiting bug norovirus can take hold on hospital wards.
And this year, the stakes could not be higher. With little more than six months to a general election, all eyes are on how the health service copes, particularly in England.
The focus is traditionally on A&E units, but these have already started feeling the pinch long before the cold weather has kicked in.
In recent weeks, the number of patients seen within four hours in England has dropped to below 94% - missing the target and worse than much of last winter despite it only being autumn.
There is clearly concern as ministers have just announced the winter pressures pot has been increased from £400m to £700m.
Elsewhere in the UK, performance is even worse. As always, the most acute problems are in the biggest units.
NHS under pressure
£700m
extra for A&E, but the rest of the system is under pressure -
90,000 more patients waiting for an operation than a year ago

62 day target for cancer treatment missed for last 6 months

24% of patients say it's "not easy" to get through to GP by phone
GETTY IMAGES
But that is just the start of it. Wherever you look, the NHS is under strain. Latest data from the national survey of GP patients shows people are finding it increasingly difficult to get through to GP surgeries on the phone and, when they do, they have to wait longer for an appointment.
In hospitals, the number of patients waiting more than 18 weeks for routine treatment - the target time - has been hovering at its highest level since 2008. Part of that is down to the government's "managed breach" it announced during the summer to deal with the people who had faced the longest waits.
Nonetheless, the demands being placed on the system are - like A&E - increasing. According to latest figures, 90,000 more patients are on the waiting list compared with last year.
While emergency care and routine operations are quite different areas of hospital care, they are not entirely unrelated. A busy winter period in A&E can suck staff and resources from other parts of the hospital.
In cancer care, it is a similar story. The 62-day target for treatment starting has been missed for the past two quarters. The reasons are complex, but again greater demand is playing a role - the numbers being referred into the hospital system are on the rise.
Not all of these people have cancer, but GPs are under pressure to detect the disease at an early stage so they tend to refer as soon as they are concerned. Each case needs investigating and tests carried out.
This is all happening at a time when staff are involved in an industrial dispute with ministers. Last month, nurses, midwives and a range of support staff from porters to admin workers took part in the first walk-out over pay for more than 30 years. Another strike is planned for later this month.
With the political parties gearing up for what promises to be a tightly-fought election, could the fortunes of the NHS this winter play a key role? Richard Murray, director of policy at the King's Fund, thinks so.
"The problem is we are starting from a low base. It's not even winter yet and the pressure is really high. At the same time, hospitals are being asked to think about routine operations and cancer. There is just no wriggle room.
"The big question is whether we will see a winter crisis like we used to: patients waiting in corridors and on trolleys, unable to get a bed. We are not there yet, but if pictures like that start emerging the debate goes to a whole other level."