'Dry January' linked to drinking less in long term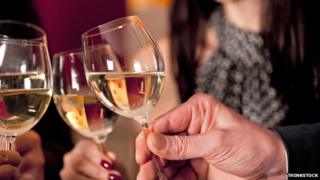 Giving up alcohol for a month can change people's drinking in the long term, meaning they drink less and get drunk less often, according to a study.
Researchers from the University of Sussex followed up nearly 900 participants in Alcohol Concern's Dry January campaign.
Six months on, 72% had kept harmful drinking episodes down and 4% were still not drinking.
Participants were more likely to refuse alcohol in social situations too.
Dr Richard De Visser, senior lecturer in psychology at the University of Sussex, who led the research, said: "What's really interesting to see is that these changes in alcohol consumption were also seen in the participants who didn't complete the whole month alcohol-free.
"Even if participants took part but didn't successfully complete the 31 days, it generally led to a significant decrease across all the measures of alcohol intake."
Dry January is a campaign by Alcohol Concern aimed at social drinkers, encouraging them to give up alcohol for a month after the excesses of Christmas.
It had been suggested that a booze-free month could cause people to binge-drink the next month.
But the charity said there was no evidence of this. The research showed that committing to a month off alcohol was more likely to lead to people moderating their drinking, it said.
They were also more likely to say no to a drink on social occasions or when feeling upset or anxious.
For the research, around 3,800 people completed a questionnaire before they gave up alcohol in January 2014 and more than 1,600 completed a follow-up questionnaire in February.
Nearly 900 people completed another follow-up questionnaire in August, six months later.
After going 31 days without alcohol, people taking part said they experienced a number of positive side-effects, such as sleeping better, losing weight and feeling more energetic.
More than three-quarters of people said they had saved money and felt a sense of achievement.
Prof Kevin Fenton, national director of health and wellbeing at Public Health England, said the research showed that a month of abstinence can help people reset their relationship with alcohol.
"Over-consumption of alcohol is a causal factor in more than 60 medical conditions including cancer, depression and dementia and yet more than half of adults who drink do so at a level above the recommended guidance.
"Dry January has proved to be successful in helping people moderate their drinking and benefit from a healthier lifestyle, which is why Public Health England is supporting the initiative."
Commenting on the research, Prof Paul Wallace, chief medical adviser to alcohol education charity Drinkaware, said people should not be complacent.
"It's important not to assume that having a break from alcohol for a while means it's OK to drink to excess the rest of the year.
"It's also important to recognise that just because you can stop drinking alcohol for a period of time, it doesn't mean you don't need to continue to moderate your drinking in the long term."