Minor cosmetic procedures 'very safe in expert hands'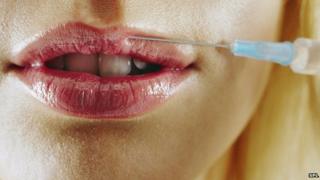 Minor cosmetic procedures such as Botox injections and dermal fillers are very safe when carried out by trained professionals, say researchers.
A large US study that looked at 20,000 minimally invasive procedures done by dermatologists found few complications and none that had been serious.
UK experts said the findings, in JAMA Dermatology, underlined the importance of proper training and regulation.
The growing UK cosmetic industry has been accused of acting like "cowboys".
In 2013, NHS medical director Sir Bruce Keogh warned that some procedures such as fillers, in which substances are injected to plump up the skin, were a "crisis waiting to happen".
One major concern raised by the report was that it was too easy for anyone to offer these procedures without any checks.
The Department of Health is taking steps to better regulate the industry, which is expected to be worth £3.6bn by 2015 with non-surgical procedures accounting for three-quarters of the market.
A British Association of Dermatologists survey of its members last year indicated 58% had seen patients with complications from non-surgical cosmetic procedures.
More than half of those had been due to problems with dermal filler injections.
And 62% of respondents said the issues they had seen had been chronic or irreversible.
Expert hands
In the US study, which researchers said was the first large analysis across multiple centres to estimate the rate of adverse events, only 36 procedures (less than 1%) out of 20,399 looked at were associated with a problem.
Issues reported had usually been very minor side-effects such as bruising, swelling, the formation of lumps or skin darkening, which resolved on their own or with some additional treatment, they said.
The rate of adverse events for fillers had been slightly higher than for laser or Botox treatment, but that was "to be expected" because the procedure was more invasive, the researchers added.
Study leader, Prof Murad Alam, from Northwestern University Feinberg School of Medicine, suggested minor treatments might safely be used in combination for significant effect and with much less risk than bigger cosmetic operations.
Nigel Mercer, deputy president of the British Association of Plastic, Reconstructive and Aesthetic Surgeons, said the findings underlined that minor cosmetic procedures were safe - in the right hands.
"It is only safe if you have the necessary training," he said.
"If you're a reality TV star who does filler injections, you could say this study shows the risks of these procedures is very small - but we don't have honest reporting about what these risks are."
He said that the Department of Health would set out requirements for accreditation by next year, and that it would not be a case of "doing a weekend course".
Health Minister Dr Dan Poulter said: "New training standards for non-surgical cosmetic procedures are now being developed to ensure no one is given fillers or Botox by someone who isn't qualified."