UK national sperm bank opens for business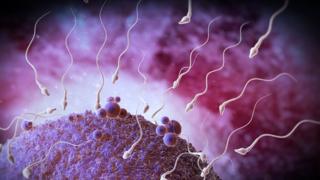 A UK national sperm bank - charged with reversing a growing shortage of donor sperm - has started work in Birmingham.
Fertility clinics have become increasingly dependent on imported sperm giving rise to the so-called "Viking babies" phenomenon.
Meanwhile, data from the fertility regulator shows a 10th of IVF cycles are dependent on donated sperm or eggs.
And a third of procedures using donated material were for same-sex couples or single women.
The number of UK-based sperm donors has been increasing since 2004. However, demand has increased even faster.
Denmark and the United States have become major suppliers of sperm to British women.
Banking
The Department of Health has given £77,000 to fund a national sperm bank which will be based at Birmingham Women's Hospital.
There will be a corresponding campaign to "change the face" of sperm donation, which will be run by the National Gamete Donation Trust.
Sperm donors in the UK are mostly white, which leaves people from other ethnicities struggling to find a donor.
The project will start in Birmingham before being extending to cover the whole country.
Dr Sue Avery, the director of the Birmingham Women's Fertility Centre, told the BBC News website: "The idea of the campaign is to focus on sperm donation as a tremendously positive thing to do and that the men who do this are very special.
"They're helping to build families.
"We're spending this money to start something that we hope will grow to the point where nobody has to import sperm."
Eventually the national bank could act like a "brokerage house" that connects donors in one part of the country with those in need elsewhere.
The Human Fertilisation and Embryology Authority said the proportion of imported donor sperm was increasing every year.
"In part this is because the time and resources needed to recruit UK donors can sometimes make importation more viable," the body said.
People who need donated sperm included men who have had cancer treatment or had a genetic defect leaving them incapable of producing sperm.
The HFEA data also shows a rising number of women who are single or who have a female partner receiving treatment with donated sperm.
Growing problem
Dr Allan Pacey, the chair of the British Fertility Society, told the BBC: "We are importing as a nation more and more sperm from overseas, without being xenophobic it kind of just doesn't feel right, it's a problem that's not going away."
He argued simple economics could make it easier to import sperm than increase the number of donors.
But said the practice created problems such as making it much harder for children to meet their biological parents if they lived half a world away.
"Also I think there will always be some patients who, with regards to sperm donors, will want an individual that is more closely related to them in culture and language and outlook."
He added that sperm donation needed to become more ethnically diverse and it made sense to start the bank in multicultural Birmingham.
---
Jimmy, a 22-year old sperm donor from Coventry
I've gone to the Birmingham clinic about twice a month for the past nine months.
I initially started doing it because I had a friend who was struggling to have children and it made me want to help. I want to help other people, some who really go through it. I just think why not?
Obviously you are concerned but I have faith if someone has gone through this to have children they will go to the effort to make sure they have a good life.
I don't think of [babies conceived from my sperm] as my children as I think the parent is the person who brings them up.
I don't feel an emotional bond [to the children]. At my age now I don't know I would be a good parent.
---
Laura Witjens, the chief executive of the National Gamete Donor Trust, said: "When people think of sperm donation they often only think about the physical act of producing sperm.
"Let's face it that can be off-putting and detract from the real issues. We're all set to change that outlook.
"Sperm donors are very special men who are doing something they and their families can be exceptionally proud of.
"These are men who are doing something life-changing for themselves and for others. It's time to shout about how fantastic these guys are."