Later sunsets 'increase children's activity levels'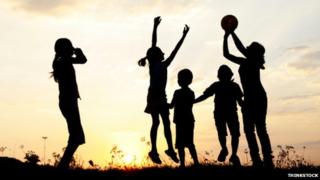 Moving the clocks forward by one extra hour all year in the UK could lead to children getting more exercise every day, say researchers.
Their study of 23,000 children found that daily activity levels were 15% to 20% higher on summer days than winter days.
The UK research team said increasing waking daylight hours would have a worthwhile benefit on public health.
The clocks are set to go back by one hour this weekend across the UK.
This will result in darker afternoons and fewer hours of daylight after children finish school.
Researchers from the London School of Hygiene and Tropical Medicine and the University of Bristol analysed the activity levels of this large group of children aged five to 16 years old in nine countries, including England and Australia.
All the children wore accelerometers or electronic devices around their waists that measured body movement.
The results, published in the International Journal of Behavioural Nutrition and Physical Activity, suggest that more evening daylight can help keep children active for longer.
Every child
Proposals to shift the clocks forward by one additional hour for the whole year and not move them back in October, have been debated in parliament at various times over the years, but never been implemented.
The study calculated that these proposals - which would give British children 200 extra waking daylight hours per year - would increase the average time children spend doing moderate to vigorous physical activity from 33 to 35 minutes a day.
Lead author Dr Anna Goodman, from the London School of Hygiene and Tropical Medicine, said an extra two minutes may not seem like much, "but it was not trivial in relation to children's overall activity levels".
Dr Goodman added: "This study provides the strongest evidence to date that, in Europe and Australia, evening daylight plays a role in increasing physical activity in the late afternoon and early evening - the 'critical hours' for children's outdoor play.
"Introducing additional daylight savings measures would affect each and every child in the country, every day of the year, giving it a far greater reach than most other potential policy initiatives to improve public health."
This effect appeared to apply to girls and boys and to overweight and normal-weight children, as well as children from different socio-economic backgrounds, the study said.
As part of the study, researchers looked at the activity of 439 children just before and just after the clocks changed in their country.
The results showed that each child immediately became more active on the days when sunset had been moved an hour later.
"In England next week, there will be a sudden drop in physical activity levels of 5% because of the clocks going back," Dr Goodman said.
Co-author Ashley Cooper, professor of physical activity and public health at the University of Bristol, said: "While the introduction of further daylight savings measures certainly wouldn't solve the problem of low physical activity, we believe they are a step in the right direction."
Opponents of daylight saving measures say mornings would become darker, especially in Scotland, and this could have an impact on children going to school and people travelling to work.