NHS trusts borrowing heavily from state bailout fund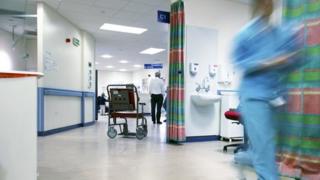 Some NHS hospital trusts in England are still counting on large government bailouts, the BBC has found.
And a senior health analyst believes there will be a "significant increase" in the number requiring help this year.
But he warns the "interim support" - which totalled more than £500m to 31 trusts last year - could run out.
The government said any "interim financial support" depended on trusts "sticking to a strong recovery plan".
Nigel Edwards, chief executive of the Nuffield Trust - an independent research group on healthcare in the UK - said despite an expected rise in demand for the money, a lack of "spare cash" in the health system was likely to prevent such funding being distributed to the same extent in the future.
Mr Edwards told Radio 4's PM programme that the NHS had had the means to provide the "bailouts" because it had been "under-spending its budget".
But with the extra finances now "almost completely spent", he said there could be a case for rationing future bailouts.
The government says its financial support to trusts is factored into "planning for how the overall budget is used".
Recent figures from regulators show NHS trusts in England ran up a combined deficit of £467m in the first quarter of 2014-15.
Last week, NHS England's chief executive, Simon Stevens, repeated his warning of a £30bn annual deficit by 2020. By then, the NHS will need an extra £8bn a year, according to a new five-year plan.
'Reliant' on support
Caroline Walker, finance director at the Peterborough and Stamford Hospitals NHS Foundation Trust, explained that it was having to rely on "interim support" from the Department of Health.
She said: "If this hospital was a private company, we would have not been trading for three years now."
The trust's financial situation is now "stable" - it is not deteriorating - but it is not getting any better, either, which is largely the consequence of a Private Finance Initiative project to build Peterborough City Hospital.
Ms Walker explained the trust had received just over £40m in interim support during the last financial year - a "significant" percentage of its turnover and a figure it would almost certainly need "this year, next year, and the year after that".
She rejected the idea that the support - which hospitals in deficit are not required to pay back - was rewarding failure. "Management changes have been made [in the past], so failure has been recognised," she said.
"Monitor, our regulator, has supported the trust in the conclusion that the management or the board of this hospital can't save £40m [per year]."
Ms Walker said trusts had to go through stringent checks before receiving assistance.
"We have had to submit our annual plans and our monthly and weekly cash-flow forecasts many, many times to clear this funding," she explained.
More of same
The BBC contacted some of the trusts which had received some of the larger pay-outs during the last financial year. Most said they would - or hoped they would - receive this same support or other kinds of permanent financial help again this year.
Some other trusts, which did not receive any interim support in 2013/14 but have fallen into deficit, told the BBC they were hoping to get some this time round.
Derby Hospitals NHS Foundation Trust said it had already received more than £12.1m since April and would be given a further £16.7m over the next five months.
The government says it has increased the NHS budget by billions of pounds and expects NHS trusts to have a strong grip on their finances. It says when it provides help, the aid is dependent on the organisations developing and keeping to a strong recovery plan.
So far in this financial year, the government says it has paid around £36m of interim support to four trusts, but with experts saying more than ever will require help, trusts might worry whether there will be enough bailout money available to go around.
Listen to PM from 17:00 BST on BBC Radio 4, Monday to Saturday each week.