NHS acting as 'barrier to families'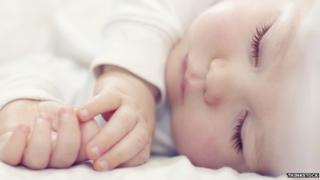 The NHS in England has been told to stop being a barrier to infertile couples having children, in new rules by the funding watchdog.
The National Institute for Health and Care Excellence (NICE) says women should get three IVF cycles on the NHS.
Yet the overwhelming majority of the country fails to meet this standard and women in York are refused IVF treatment completely.
Fertility doctors said the situation was "very sad".
About one in every seven couples in the UK have difficulty conceiving, but access to treatment is extremely patchy.
The decision on how much IVF to fund is made by groups led by local GPs.
18% offer three cycles
29% offer two cycles
52% offer just one cycle
The Vale of York clinical commissioning group says IVF costs too much and does not offer a single cycle.
The Mid Essex group offers IVF in only exceptional cases.
'Not acceptable'
NICE has now issued a new "quality standard" on fertility care for the NHS.
It strengthens long-standing guidance that the NHS should provide women under 40 with three cycles of IVF as well as recent updates stating women between 40 and 42 should be offered one cycle.
Prof Gillian Leng, from NICE, told the BBC: "Infertility causes significant stress and depression, and there are effective treatments which are available in some parts of country and not others.
"That is not acceptable in a national health service. In some areas, it is not possible for couples to have a family."
She said she was "aware of the funding pressures" but hoped the new clinical standard would change practice.
"I don't think it's appropriate to just say, 'No we're not offering any IVF,'" she said.
Sue Avery, from the Birmingham Women's Fertility Centre, said the situation was both "very sad" and "crazy".
Her centre serves NHS patients who get either one or two cycles depending on where they live.
Dr Avery told the BBC: "I think if you are a couple who have something wrong, there may have been previous cancer treatment for example, then you're saying, 'You've been through all of this, you want children, it's a basic human need, but you're not going to get that opportunity because of funding.'
"People may argue it's not a matter of life and death, but the NHS also provides treatments to improve quality of life. And if this is not about quality of life, then I don't know what is."
She said she knew couples who were planning to move elsewhere in the country to get access to IVF.
Restrictions
Some clinical commissioning groups insist both parents have a Body Mass Index below 30 while others insist the women gives up smoking.
The chairman of the British Fertility Society, Dr Allan Pacey, said: "It is disappointing to see that there has been no improvement in the funding available for assisted conception services in England.
"Some areas such as Mid Essex are worse off now compared to a few years ago, suffering from reduced or even complete withdrawal of funding.
"By cherry-picking aspects of guidelines to fund services of their choice, local commissioners fly in the face of what NICE is all about.
"Their guidelines must be taken as a whole if we are to deliver the best and most cost-effective use of NHS resources."