'Too many' mentally ill end up in cells not hospital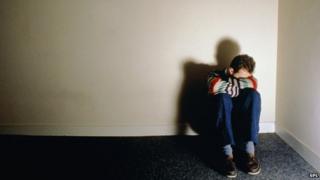 Too many people in the middle of a mental health crisis end up locked in police cells after being turned away from hospitals, says a report.
People are being turned away because of full wards, staff shortages or because they are too young or too drunk, said the Care Quality Commission (CQC).
Police cells are inappropriate and make people feel "punished for being unwell", said the charity Mind.
Home Secretary Theresa May said the situation was unacceptable.
Violent and intoxicated
The CQC said in some areas, patients were well provided for, but that the standard was not universal.
Between 2012 and 2013, in total 21,814 people were detained by the police under Section 136 of the Mental Health Act.
The law says those people should be interviewed by a registered doctor, or mental health professional, to make arrangements for care.
But the CQC said 7,761 cases ended up in a police cell, rather than safe rooms in A&E, mental health trusts or children's hospitals.
Patients were being turned away from hospitals because they were violent, intoxicated, disturbed or under 18. Or because the hospitals either did not have an appropriate place to put them or staff with the right skills to deal with them.
Mrs May said the situation "wastes police time" and leaves people with mental health problems without the care and support they need.
'Not good enough'
"We must never accept a situation when a person in crisis is denied care because a health-based place of safety is full or unstaffed, or just because the person is intoxicated," she added.
She said the "exclusion" was not in line with a plan launched by the government on looking after people in crisis and called upon local health leaders, commissioners and providers to improve care.
The CQC's survey also found many hospitals did not have the data to quantify if there was a problem and record how many patients were sent away.
Dr Paul Lelliott, of the CQC, said the survey findings were "not good enough".
"Imagine if people who had had a heart attack or stroke, were regularly turned away from an A&E department due to a lack of staff or beds," he said.
Sophie Corlett at Mind said: "Being detained in a cell is frightening, especially for someone in crisis, who is often confused, and might even be harming themselves, experiencing suicidal feelings or psychosis."
"An emergency is an emergency, and those who are intoxicated and in need of help should still receive the same level of mental health care and treatment as anyone else," she added.
She said local agencies should work together to give support.