Where does UKIP stand on health?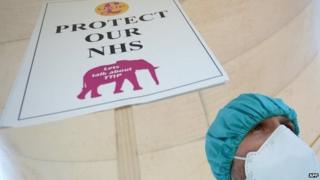 Thinking about national policies from parties that do not expect to win national elections is a slightly odd exercise, but I think it is worth looking at UKIP's policy on healthcare.
That is because Labour, in particular, has continued to claim that UKIP is in favour of user-charging in the NHS.
I have heard that a few times this week. That is actually not UKIP's stated policy.
But if people want to talk about UKIP and the NHS, there are things that repay some consideration.
Trade deal
UKIP's heart is in European withdrawal and immigration policy more than anything.
In negotiation with another party, health is unlikely to be a big issue. Still, what does UKIP think?
UKIP, like Labour, opposes the inclusion of health services in a trade deal between the European Union and the US.
Fighting the inclusion of the NHS in the deal - the Transatlantic Trade and Investment Partnership (known as TTIP) - also puts UKIP in the company of Unite, the trade union.
UKIP's objections to TTIP echo those of Labour and Unite.
Their main worry is that "the agreement will make it nigh-on impossible for any government to take back control of a service currently provided by the private sector, should they fail to perform adequately".
I should note that neither NHS leaders nor the European negotiators expect this to happen.
The deal seeks to create a framework to enable investment by US companies in the EU.
It is not expected by negotiators to create new obligations to outsource nor to allow companies to breach contracts.
Private funding
UKIP also opposes the Private Finance Initiative (PFI), a financial process that has been used since the 1990s by the Treasury to build, run and manage some hospital buildings.
The idea of PFI is that the Treasury will, in effect, commission a private company to build and run a facility for, say, 40 years.
If something goes wrong with it, say, 10 years in, the same private company has to pay to fix it. The risk should stay with the contractors who built the thing.
It is now widely accepted that PFI has not worked as was hoped.
The Treasury acknowledges that private companies, in practice, take on too little risk to make the price worthwhile.
There is also evidence that the government has sometimes straightforwardly overpaid via PFI.
In fact, concern about it is so widespread that this is actually a rather mainstream position.
The coalition sought to reform the practice - it remains to be seen how well - and published a report on its flaws and how to fix them.
But UKIP differs from Andy Burnham, Labour's shadow health secretary, in one important respect.
Outsourcing NHS
Mr Burnham is not a fan of outsourcing health services in the NHS.
He often rails against doctors buying medical services from private companies if there is a public sector alternative.
Nigel Farage seems to condemn the outsourcing of health services,, but when I pressed Louise Bours, UKIP's health spokeswoman, on camera a few weeks ago, she was pretty relaxed about it.
And Labour has made great hay about opposing the coalition's pro-market NHS reforms.
But when I asked Ms Bours about the reforms, she was agnostic.
On TTIP, UKIP sides with Labour. On Andrew Lansley's NHS changes, they side with the Conservatives.
But UKIP has one very distinctive policy: a major change to the NHS "plumbing".
The party would abolish Monitor, England's main hospital finance regulator, and the Care Quality Commission (CQC), which regulates hospital care quality.
These roles would be taken up by local health boards run by clinicians. This strikes me as a bold proposal.
Local regulators
There is always a risk that regulators get, to use the jargon, "captured".
That means that they shift from being regulators that work for patients and start to make excuses for the hospitals.
If the regulators are run by local doctors, I would assume that is a greater risk.
There is also a question of capacity.
Will these mini-Monitors and mini-CQCs be able to support the same level of expertise as the national agencies?
Will they have the breadth of experience to spot trouble? Or the national contact book required to arrange a new set of leaders for a hospital?
So it's a policy that raises big practical questions, but the idea behind it is that there will be a local person you can ring up and complain to.
UKIP thinks the potential problems are worth the risk.
Plenty to ponder
Mr Farage has refused to say whether he would protect the NHS budget from cuts, were he elected.
So we will wait to see on that score, but I would be surprised if anyone sought budget reductions from the NHS in the immediate future, given the nature of the ongoing squeeze.
There is plenty for voters of all parties to chew over there - even if user-charging isn't part of it.