Dying at home patients 'lack 24-hour expert support'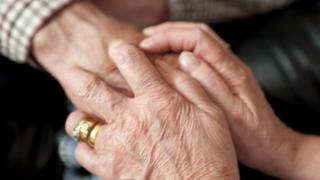 The NHS is failing to provide access to 24-hour support for the majority of patients dying at home in England, according to health charity Sue Ryder.
Around 92% of NHS clinical commissioning groups (CCGs) do not provide round-the-clock telephone help lines, the charity said.
Guidelines say there should be 24-hour telephone services and the NHS says it is "working hard to make changes".
There are half a million carers for terminal patients in England.
Support 'gap'
Sue Ryder said there is an "obvious inequality" between help and advice for the start and the end of life, with 24-hour, seven-day-per-week help available for maternity issues.
The charity asked all of the 211 clinical commissioning groups (CCGs) in England whether they had commissioned 24-hour end-of-life care support, including help lines staffed by nurses.
Out of 180 CCGs which responded to requests for information from the charity, only 8% said their local area had a dedicated 24-hour help line and palliative care coordination centre.
A poll of 2,048 UK adults conducted by Populus on behalf of Sue Ryder suggested that around four out of five people support the availability of 24-hour advice for those who are dying.
Around the same proportion of people think 24-hour emergency home visits should be available to alleviate pain and other symptoms.
The Leadership Alliance for the Care of Dying People, a group of government bodies, health experts and charities, published official guidance in June specifying that palliative care should include access to telephone support.
"Service providers and commissioners are expected to ensure provision for specialist palliative medical and nursing cover routinely 9am to 5pm seven days a week and a 24-hour telephone advice service," the guidance said.
'Making changes'
According to the National Institute for Health and Care Excellence (NICE), service providers should ensure that carers and terminally ill should be offered information "in an accessible and sensitive way, in response to their needs and preferences."
Care should be "coordinated effectively", the NICE guidelines from 2011 add.
Bee Wee, NHS England's national clinical director for end of life care, said: "Over the past year we have been working hard to make changes and move towards a palliative care service that gives everyone a choice about how and where they spend their final days.
"It is really important that dying people, and those close to them, have access to care, support and advice whenever they need it, so we support this as an important issue to address."
'Terrifying experience'
Victoria Wolfe-Brown, who gave up work to look after her parents, said she had found the provision of palliative care to be "unco-ordinated and somewhat chaotic" at times, last year and this.
"At one point, in the course of a four day period, there were forty care workers in the house, but not one knew anything about my father's condition," she said.
"On another occasion, we were stranded as the usual service we got help from was closed on a bank holiday - my father's condition was going rapidly downhill - it was quite a terrifying experience," she added.
Sue Ryder chief executive Heidi Travis said: "People who are dying, their carers and their families should be able to access the care they want, when they want.
"Unfortunately many areas of the country simply don't have the services in place to make this ambition a reality."
Despite concerns from some charities and carers, the UK has some of the best-rated end-of-life care in the world, according to the Worldwide Palliative Care Alliance (WPCA).
The UK ranks with the Australia, Austria, Norway, and the US as having the best-rated palliative care, while Egypt, Ethiopia, Morocco, Mozambique, and Pakistan have some of the worst-rated care.
Around 98 countries around the world have no hospice or palliative care.
---