'More doctors than ever' coming to UK from Europe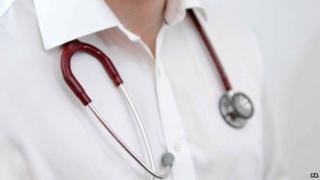 There are "more doctors than ever" coming to work in Britain from Europe, says the General Medical Council.
Southern Europe now provides more doctors than South Asia to the UK, which was previously the main source.
The GMC said the tightening of immigration rules for people outside the continent could explain the change.
In an annual report, the regulator also said more women were working in "traditionally male" areas such as surgery and emergency medicine.
It said the profession would soon have equal numbers of men and women.
In total, the number of doctors coming to Britain from overseas increased 8% from 5,204 in 2008 to 5,619 in 2013.
Of these, in 2008, 18% were from southern Europe and 28% from South Asia.
This changed to 33% from southern Europe and 20% from South Asia in 2013.
Overall there were 259,650 doctors in the UK in 2013.
'Overloaded'
The GMC's report said: "We do not know all the reasons for these changes but some are already clear - after changes to immigration rules in 2010 it became harder for international medical graduates to secure training and employment here."
It also said the economic downturn in Europe and the increased opportunity for European Economic Area graduates to work in the UK following changes in 2004 and 2007 were behind the rise.
Meanwhile, doctors working in primary care repeatedly described feeling "overloaded" and "at risk of burning out" said the report.
Shortage concern
GMC chief executive Niall Dickson said potential shortages in specialist areas, such as public health and occupational medicine, with diminishing numbers of doctors in postgraduate training and large numbers of those aged over 50 were of "particular concern".
Mr Dickson said: "Recruitment in some parts of the UK, especially deprived areas and more remote communities, is also a significant challenge."
He also said the needs of patients were changing with many living longer, with more long-term conditions.
"The challenge for governments, educators and those who commission services must be to work together to make sure we have a medical workforce with the right skills and one which is adequately resourced, trained and supported to meet those needs," he added.
Royal College of Surgeons president Clare Marx said the fact the number of surgeons on the register had increased was "good news".
"The NHS needs more surgeons to ensure high quality surgery seven days a week," she said. "We are committed to attracting the best doctors to becoming surgeons, regardless of their gender or background."
Ms Marx said the 42% increase in women becoming surgeons was "encouraging" but that only 10% of surgical consultants were female and getting women in to the top echelons of the NHS represented a "considerable challenge".