Radiographers vote to strike over NHS pay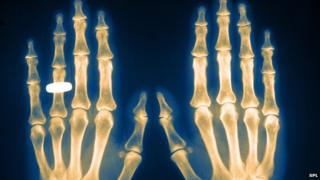 Radiographers have voted to strike over pay, potentially affecting X-ray and ultrasound services across the UK.
However, they will not join other staff in England - such as nurses, midwives and porters - in a four-hour walkout on 13 October. They have yet to decide on the time and format of their protest.
In all 53% opted for industrial action in the Society of Radiographers ballot.
Ministers have awarded NHS staff a 1% increase, but only for those without automatic progression-in-the-job rises.
These are designed to reward professional development, are given to about half of staff and are worth 3% a year on average.
An independent pay review board had said the NHS increase should be across the board, but ministers disagreed.
This has provoked anger throughout the health service.
'Pay eroded'
On Monday the Royal College of Midwives voted to take part in strike action for the first time in its history.
The GMB, Unison and Unite have also backed a walkout on 13 October, in what will be the first strike over NHS pay for 32 years.
Radiographers will not take action at the same time because their organisation still has to decide on what course of action to take.
"It is very unusual for radiographers to vote for industrial action and this vote shows the anger they feel," said Richard Evans, the society's chief executive officer.
"Working people in the NHS have had to accept decreasing standards of living for long enough.
"Pay has been eroded by inflation and the government year after year has refused even the smallest of increases."
There had been real-terms pay cuts for "radiographers and many millions of others who work in the NHS", he added.