Another day, another tablet?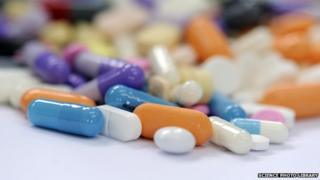 Another day, another tablet. This time its for people who need help cutting their alcohol consumption.
The National Institute for Health and Care Excellence (NICE) has recommended that nalmefene should be available to patients throughout the NHS in England.
But is this another example of what some are calling a worrying trend, "a pill for every ill"? Is it the best response to the scourge of alcoholism?
Nobody doubts the cost to society of excess drinking. The government estimates that alcohol-related harm leads to annual costs of £21bn - including direct costs to the NHS, the effects of alcohol-induced crime and lost productivity in the economy.
The drug's manufacturer Lundbeck says that large-scale trials have shown that it can reduce alcohol dependence in certain patients by an average of 61% over a six month period.
The tablets, costing the NHS about £3 each, are taken in association with counselling.
Policy levers
So what's the cost?
NICE acknowledges that its not possible to estimate what the usage might be. Predictions from Lundbeck suggest that around 5,800 people in England and Wales might be prescribed the tablets in the first year of use. That would rise to nearly 66,000 in the fifth year.
The total bill in the first year would be about £2.2m, rising to more than £25m in the fifth year.
That £25m cost of prescribing to 66,000 looks like a minimum likely cost given that the eligible population in England is 600,000. Being eligible of course does not mean that the drug would be appropriate but the acceleration in annual costs over five years might well continue over a longer period.
In essence, taxpayers are being asked to fund treatment in an attempt to reduce costs associated with alcohol misuse.
But moderate consumers and non-drinkers might feel this is unfair. There is an argument for using other policy levers to encourage people who drink excessively to moderate their consumption.
The Faculty of Public Health has argued there are simple alternatives to medication which would reduce alcohol consumption, including cutting drink advertising and introducing a minimum price per unit.
The faculty points out that there are pressures on the NHS budget and prescribing nalmefene might not be the best use of resources.
Complex arguments
Minimum pricing is a contentious issue.
This government stalled on the idea and is said now to be "considering" the arguments for going down that route.
The Scottish administration's attempt to impose a minimum price of 50p per unit has been held up by a legal challenge mounted by the drinks industry.
A decision by the European Court of Justice may not come till next year. As it happens, nalmefene has been available in Scotland since October 2013.
Pills to tackle drink problems? Bariatric surgery to deal with obesity? All on the NHS and paid for by taxpayers?
It's easy to construct populist headlines which miss the complexities of the arguments about helping people with acute conditions.
But with all the demands on the health service these questions will continue to be asked.