Asbestos victims win damages ruling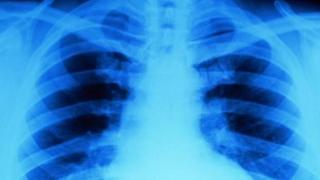 Government plans to deduct legal fees from the damages paid to people dying from asbestos exposure are unlawful, the High Court has ruled.
The Asbestos Victims' Support Groups Forum UK brought the action against Justice Secretary Chris Grayling.
The group challenged his decision to allow 25% of damages awarded to mesothelioma sufferers to be used to pay legal insurance premiums and costs.
The Ministry of Justice said it was "disappointed" with the judgment.
Mesothelioma is an aggressive cancer caused by exposure to asbestos.
It can take decades to develop, yet people live for an average of just nine months after diagnosis.
Around 2,000 people are diagnosed each year, and the numbers are set to increase over the next 30 years.
Many people seek compensation by taking legal action against their former employers or the employer's insurance company.
Who pays?
In 2013, there was a shift in the legal system.
The Legal Aid Sentencing and Punishment of Offenders Act (LASPO) moved the responsibility of legal costs from the losing party to the person making the claim.
However, people with mesothelioma were exempt from the new rules until there was a full review of the implications on this group of claimants.
The government said the review took place at the end of last year, and that the same rules should apply to mesothelioma sufferers.
The Asbestos Victims' Support Groups Forum UK said: "It could only be described as a back of a fag packet review."
It took legal action against the government.
In his judgement, the honourable Mr Justice William Davis said: "The issue is whether the Lord Chancellor conducted a proper review of the likely effect of the LASPO reforms on mesothelioma claims... I conclude that he did not."
He ruled attempts to deduct costs from damages were unlawful.
'Very happy'
Doug Jewell, from the Asbestos Victims' Support Groups Forum UK, told the BBC News website: "We are very happy indeed. This lifts the burden of fear from thousands of mesothelioma sufferers.
"People ask about legal action because they want to look after their families after they've died, but they're scared by the legal fees.
"Now they're told they're safe, it won't cost you anything, and they can take action and provide for their families."
A Ministry of Justice spokesperson said: "Mesothelioma is an awful condition which can destroy lives in a frighteningly short amount of time, and we want to help sufferers and their families.
"We are committed to finding the best way to get claims settled fairly and quickly.
"It remains our view that the Ministry of Justice review of this issue was conducted fully and openly and we are disappointed with this judgment. We will now consider our next steps."