Ageing GPs 'may force practices to close'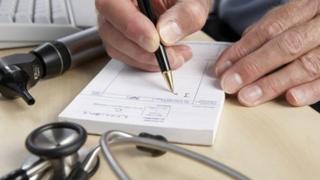 Hundreds of GP practices are at risk of closure because of the number of doctors reaching retirement age, GP leaders say.
An analysis by the Royal College of GPs has identified 543 GP practices out of the 8,000 in England it believes could be forced to shut in the next year.
They all have more than 90% of their doctors aged over 60 - the average retirement age is 59.
The research was released at the start of the RCGP's conference on Thursday.
It comes just two days after ministers unveiled ambitious plans to create seven-day GP services.
The proposals - set out during the Conservative Party conference - included promises of extra money to ensure access during the whole week by 2020.
But the central theme of the RCGP conference will be the pressures GPs are facing now, just providing the current level of services.
RCGP chair Dr Maureen Baker said extra investment was needed just to keep the system afloat - never mind expanding it.
She said the amount spent on GPs as a proportion of the NHS budget had been falling in recent years, and needed to increase from the current "historic low" of just over 8% to 11% by 2017.
Speaking to BBC Radio 4's Today programme ahead of the start of the conference in Liverpool, she said: "We do have a workforce crisis in general practice.
"We've been losing GPs, we are losing GPs and we're not recruiting enough doctors into the profession."
To make her point, Dr Baker unveiled research the College had carried out showing the growing risk of the ageing workforce.
It is based on data from the Health and Social Care Information Centre and Health Education England, but also includes estimates showing that the numbers at risk rise to nearly 600 if the rest of the UK is taken into account.
Comparing general practice to the "walls of a dam" that prevents the rest of the NHS being flooded, Dr Baker said: "So far much of the damage to the dam wall has been hidden from the public.
"They see the flooding downstream in A&E departments and in hospital pressures - but they haven't been aware that GPs, nurses and practice teams have been absorbing that pressure by trying to do more and more with less and less.
"But if we let that situation continue we will see whole chunks of the dam fall apart when practices have to shut their doors."
She described the situation as "shocking".
But the Department of Health said it was investing in new GPs. It said the number of GP training places was rising. Last year there were just over 2,700, but by 2016 it will hit 3,250 a year.
A Department of Health spokesman said: "We know GPs are under pressure, which is why we're increasing trainees so that GP numbers continue to grow faster than the population."