The onward march of the century makers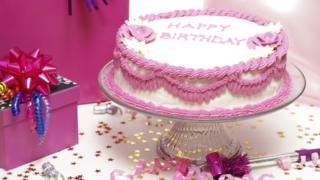 Austerity may be gripping Whitehall but one department is increasing staff numbers - the Department for Work and Pensions.
The new employees are needed to organise the growing number of congratulatory cards for centenarians.
The increasingly long lists are dispatched to Buckingham Palace so officials can get the Queen's birthday messages in the post.
Figures from the Office for National Statistics, noted by the DWP, show there are now 13,780 people aged 100 or more in the UK, an increase of 70% over the last decade.
That number is dominated by women with men accounting only for around 2,000.
Current estimates suggest that one in three children born today will reach the age of 100.
'Inexorable rise' in costs
Beyond the birthday celebrations and all those candles, what is the significance of all this?
Quite simply the growing army of centenarians illustrates one of the most important economic and social trends of our time.
Longevity and the ageing of society have profound implications for health and social care, pensions and public spending.
DWP ministers have been quick to point out that there have been pension reforms to underpin and sustain pensioner incomes.
They also note that many of those who reach the age of 100 will have been in retirement for more than 30 years.
For some, it will be more than 40% of their adult lives since they last received their final pay packet from work.
Even with people working longer and a rising state pension age, the costs to the public purse will rise inexorably.
The Office for Budget Responsibility predicted this year that state pension costs will increase from 5.5% of annual economic output (GDP) in 2018-19 to 8.5% in 2063-64.
Life expectancy - up or down?
More older people with multiple ailments are adding to the workload of the NHS.
Some are living through their nineties with several conditions, any one of which might have caused their death in previous generations.
Over the same time period (2018/19-2063/64), according to the OBR, health spending rises from 6.5% of GDP to 8.5% and long term social care from 1.2% to 2.3%.
An ageing population means a larger chunk of national income devoted to their well-being.
The UK is by no means alone in facing these demographic pressures.
Some leading economies such as Japan and Germany have a higher number of elderly people expressed as a percentage of the working population (the "dependency ratio").
But longer life-spans and the growing number reaching their century will present continuing challenges to the economy and public services.
There is a view that lifestyle factors such as diet and lack of exercise could slow or reverse the steady increase in longevity seen over recent decades.
Others argue that life expectancy will continue its upward trend.
The gerontologist Aubrey de Grey has been a regular guest at pension industry conferences with his argument there is someone alive now who will live to the age of 1,000.
In the worlds of health and pensions policy most debates lead back to longevity.
There may be a time when the DWP and the Palace have to quietly drop the idea of those cards for centenarians - or perhaps raise the qualifying bar to somewhere above that 100 year milestone.