Labour bares its teeth on the NHS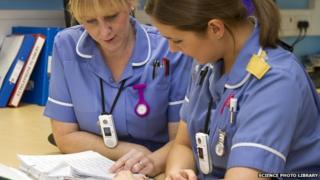 There has been a feeling in Labour circles for some time that the NHS could be the government's weak spot.
The picture emerging from the party's annual conference confirms that. With Ed Miliband making the health service such a key part of his speech, he has signalled his willingness to go toe-to-toe with the other parties for hearts and minds when it comes to the health service.
It should comes as no surprise. In the lead up to the 2010 election, the Conservatives made big play of its plans for health.
Posters of David Cameron promising to "cut the deficit, not the NHS" were put up across the country. The commitment - in budgetary terms at least - was not matched by Labour and they found themselves on the back foot.
The then Tory shadow health secretary Andrew Lansley constantly barracked the Labour Health Secretary Andy Burnham during election hustings, accusing him of wanting to cut the NHS.
It allowed the Tories to close the gap on which party was most trusted on the health service - a traditional strong point for Labour. Some polls ahead of the 2010 election even put them on top.
Fight for NHS
Now Labour wants to turn the tables. Senior figures feel they can make capital out of what they see as the unpopularity of the government's reforms and the growing pressures hospitals are facing in terms of deficits and meeting their waiting time targets.
But to win the fight over the NHS they know they have to present a convincing vision for what a Labour government could achieve.
So have they? The jury - it must be said - is out.
Commentators have welcomed the focus on the health service, but bodies ranging from the King's Fund think-tank and the NHS Confederation, which represents trusts, to the British Medical Association have called for more detail.
To be fair, that is to be expected. There are still nine months to go before an election. Plenty of time for Labour to flesh out its plans.
NHS spending
Period
Years
Average annual real growth in budget
Entire NHS History
1949-50 to present day
+4%
Coalition government
2011-12 to 2014-15
+0.1%
Last Labour government
1996-97 to 2009-10
+6.4%
Last Conservative government
1978-79 to 1996-97
+3.3%
Tightest four-year period
1950-51 to 1954-55
-2.4%
The first question to answer is what they will actually do to the NHS budget. While Mr Miliband promised an extra £2.5bn a year funded from a mansion tax, levy on tobacco firms and crackdown on tax avoiders, it is not yet clear what this means once inflation is taken into account.
Labour says it is not in a position to reveal its full spending plans. However, it is worth noting that the coalition government has actually increased the budget by a similar amount in cash terms, but that only equates to 0.1% rises each year in real terms once you factor in inflation.
And even if we assume the £2.5bn is extra on top of inflation, it would still not be enough to close the £30bn funding gap health economists forecast predict there will be by 2020.
Then the wider question is how they will spend it. Of course, the headline statement is that there will be extra staff - 8,000 more GPs, 20,000 nurses and 3,000 midwives. These numbers have not been plucked out of thin air - they are almost exactly the same as unions say the NHS is short of.
But where will they come from? There are some staff who have left the NHS that could be enticed back, but training extra - particularly GPs - takes time. Recruitment from abroad is an option.
Another issue that is hanging is how far Labour plans to go in terms of merging the NHS and council-run social care systems.
On Wednesday, shadow health secretary Andy Burnham promised free social care at the end of life. Other more radical proposals in this area have been considered, but whether they will be pushed ahead with is another matter.
In the coming weeks and months more ideas and policies are likely to follow. The battle over the NHS has begun.