NHS finances - pressures, deficits and challenges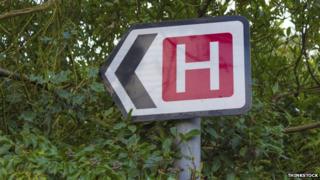 A growing population and increasing demands on the NHS are trends which are thrown into sharper relief month by month.
The financial consequences are laid bare in a new report by the regulator Monitor, which oversees the work of flagship health trusts in England with greater freedom to manage their affairs.
For the first time the foundation trusts have chalked up an overall quarterly deficit.
The other NHS providers, yet to achieve foundation trust status, have plunged even deeper into the red.
So what is happening and how serious is the situation?
For the foundation trusts to shift from a £27m surplus in April-June 2013, to an overall deficit of £167m in the same period this year is a big turnaround.
Monitor makes clear that the workload for trusts has increased across the board.
The finances look poorer partly because hospitals and other health providers are having to supply more care in response to higher demand.
Some 100,000 extra emergency patients were treated between April and June.
Staff costs
So not surprising then that major hospitals made up the bulk of the foundation trusts which were in deficit. The pressures, according to the regulator, are "unprecedented".
Monitor notes the higher levels of staffing costs and talks of an "over-reliance on expensive agency staff".
Trusts, the regulator argues, need to "get a grip" on these costs.
Hospital managers argue they are only responding to demands for improved safety and care standards and higher staffing levels in the wake of the Francis report.
The report by Sir Robert Francis in early 2013 after failings in Mid- Staffordshire called for more transparency on hospital staffing ratios.
Alarmingly, perhaps, for NHS chiefs and ministers, leading hospitals say they have had their busiest ever few months this summer with even higher patient numbers than in the traditionally busy winter period.
If that trend continues through the autumn as the temperature falls pinch points could become increasingly evident.
In response the Department of Health has said trusts should show a tight financial grip and must live within their means, while pointing out NHS funding has increased across this parliament, while other departments are subjected to cuts.
There are always suspicions in Whitehall of special pleading by hospital bosses, some of whom might need more encouragement to increase efficiency.
Winter pressures
So as winter approaches, how will health finances develop?
There is a school of thought that the first quarter is not a good guide to how the full year will pan out.
Minds are focused more on savings as the year progresses.
The government will argue that it's too early to reach definitive judgements on the overall financial position across the NHS.
But with a General Election approaching, the ability of the NHS to deliver care within its agreed funding ceiling could rise rapidly up the political agenda.
Ministers as well as hospital chiefs will be watching Met Office forecasts anxiously and hoping that last year's mild winter is repeated.