Fast-paced TV 'does not harm kids' concentration'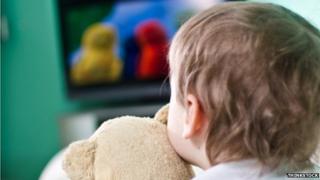 Watching fast-paced television programmes does not affect children's ability to concentrate afterwards, suggests a Keele University study.
Tests showed that three- and four-year-olds performed better on a problem-solving task after watching a fast-paced, rather than a slow-paced, Postman Pat.
There was no difference in their understanding of the two programmes.
The study is presented at the British Psychological Society conference.
Dr Alexandra Lamont, lead study author, said there was a widely held belief that watching television was responsible for behavioural problems in young children.
She said television was often blamed for adversely affecting concentration levels and inhibiting children's development, but there was little research to back that up.
Pace and performance
In the study, 41 pre-school children watched both Postman Pat programmes before completing a block-building task and comprehension tests of the programme.
The fast-paced programme was a recent episode in which the scene changed every two or three seconds and contained lots of visual and sound effects.
The slow-paced programme was older and the average length of each scene was seven seconds.
The research team, which included Dr Sarah Rose and Dr Nicholas Reyland from Keele University, found that children paid more attention to the fast-paced programme and all the children performed slightly better on the block-building task after watching the fast-paced programme.
Dr Lamont said: "We know that the pace of children's television has rapidly increased in recent years.
"It's reassuring to discover that fast-paced programmes have no detrimental effects on young children's behaviour in the short term, and important to know that they sustain children's attention and may even give them a slight boost in ability to undertake other tasks."
She added: "In this very complex area there are clearly still more questions to answer, but we are providing some evidence to counter the supposed 'harm' that comes from the increasing pace of technology for young children."
The research is presented at the British Psychological Society's developmental psychology section annual conference in Amsterdam.