WHO: Ebola taking 'heavy toll' on health staff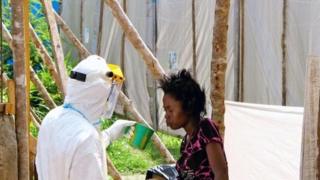 An "unprecedented" number of doctors and nurses have been infected with Ebola virus in west Africa, according to the World Health Organization.
More than 2,600 people in Guinea, Liberia, Nigeria and Sierra Leone have been infected since March, including more than 240 health care workers.
Infections in medical workers are due to a shortage of protective equipment and staff, said the health body.
Only one or two doctors are available for 100,000 patients in some countries.
The WHO said the "heavy toll on health care workers" had consequences that further impeded control efforts, such as the closure of health facilities.
"Ebola has taken the lives of prominent doctors in Sierra Leona and Liberia, depriving these countries not only of experienced and dedicated medical care but also of inspiring national heroes," the WHO said in a statement.
"In many cases, medical staff are at risk because no protective equipment is available - not even gloves and face masks."
The current outbreak is the largest ever, and has infected an estimated 2,615 people.
About half of those infected have died.
A US health official visiting the three hardest hit countries - Liberia, Sierra Leone and Guinea - said the virus had the "upper hand'' in the outbreak, but experts had the tools to stop it.
"Lots of hard work is happening, lots of good things are happening,'' said Dr Tom Frieden, the director of the US Centers for Disease Control and Prevention. "But the virus still has the upper hand.''
---
Analysis
Helen Briggs, Health Editor, BBC News online
Medical staff faced with Ebola in west Africa face a number of challenges. Infectious diseases such as malaria and typhoid fever may mimic the early symptoms of Ebola while protective gear is in short supply, and is hot and cumbersome in a tropical climate.
With severe shortages of doctors and nurses in some countries, many are working beyond their physical limits, says the WHO.
Past outbreaks have been brought under control fairly rapidly, once the virus was identified and protective measures put in place. The current outbreak - the largest ever - has overwhelmed struggling health systems in some of the world's poorest countries.
---
Meanwhile, doctors in London have begun treating a Briton who contracted Ebola in Sierra Leone.
William Pooley, a 29-year-old volunteer nurse, was flown home in a specially equipped military aircraft on Sunday and taken to Hampstead's Royal Free Hospital.
He volunteered to go to care for victims of the Ebola outbreak.
There is no cure for Ebola but with intensive care treatment and proper hydration, patients have a chance of survival.
The virus is spread between humans through direct contact with infected bodily fluids.
---
Ebola Virus Disease (EVD)
Symptoms include high fever, bleeding and central nervous system damage
Fatality rate can reach 90% - but current outbreak has mortality rate of about 55%
Incubation period is two to 21 days
There is no vaccine or cure
Supportive care such as rehydrating patients who have diarrhoea and vomiting can help recovery
Fruit bats, a delicacy for some West Africans, are considered to be virus's natural host
---