Social care reforms: Councils raise funding concerns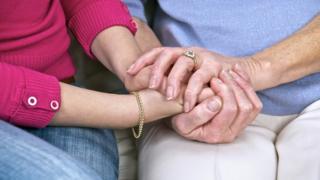 Plans to cap the amount of money people in England spend on their social care could be jeopardised by a lack of funding, councils say.
Reforms to the adult social care system will cap the amount some people pay towards their care at £72,000 and allow them to apply for council funding.
But a poll of 152 councils in England found nine in 10 had concerns over the cost of the new scheme.
The government said councils were getting extra money to fund the change.
Budget 'squeeze'
Changes to the way social care will be provided start to be introduced next year to protect those who face huge care costs when they go into residential care.
A cap will initially be set at £72,000 during a person's lifetime and will be available to those with the most severe needs.
This will come into place in April 2016, but from next April councils will have to start assessing those who pay for their care themselves - thought to be in excess of 400,000 - to see if they qualify for help.
Only those with the most severe needs will.
Without an assessment the money people are paying for their care will not be able to be counted towards the cap when the new system gets under way fully a year later.
The survey by the Local Government Association (LGA) questioned whether councils would be able to meet these new requirements, which as well as carrying out assessments also places a duty on councils to advice people where they can go for financial help.
The LGA, which has long been campaigning about the squeeze on council budgets, has written to care services minister Norman Lamb on behalf of councils to raise its concerns.
'Great on paper'
Councillor Katie Hall, of the LGA, said the government "could have unfairly raised" people's expectations through "a failure to properly fund" the changes they have been waiting for.
"Councils want to help as many people who require support and care as possible, however, with only eight months to go until councils will have to start implementing these changes, the clock is ticking for government to get the funding right so that these vital reforms do not face collapse before they have even begun," she said.
Caroline Abrahams, of Age UK, added that a "great new system on paper is pointless unless there is sufficient funding in place."
But a Department of Health spokeswoman suggested there should be enough money available, saying councils had received an extra £1.1bn this year to protect social care services.
While overall funding to local government has been cut in this parliament, the Department of Health said £470m was being set aside next year to support implementation of the reforms.
"We will continue to work with councils and the LGA to ensure the changes are sustainable," a spokeswoman added.