Sexism and poor facilities put women off sport, say MPs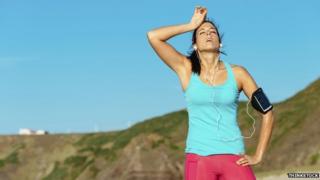 A report by MPs suggests sexist attitudes, boring lessons and "gratuitous derogatory remarks" made by media commentators put women off sport.
And the lack of female participation has serious implications for long-term health, the inquiry says.
Females of all backgrounds are less likely to to take part in activities and more inclined to give them up at an early age, according to the committee.
It is calling for fairer funding and a wider range of sports at schools.
The inquiry, carried out by the House of Commons Culture, Media and Sport Committee, found the situation had improved slightly - spurred on by the success of female athletes at the 2012 Olympic Games.
'Lack of respect'
But the MPs warn that much more needs to be done to increase media coverage and attract wider industry sponsorship.
The report says media organisations fail to engage fully in women's sport and urges newspapers to publish female events alongside men's results.
And MPs suggest female coaches are hindered by low pay, "sexism and lack of respect among both players and fellow coaches".
The committee says schools need a fairer allocation of funds for sporting activities for girls and more investment in teacher training and female changing rooms.
There are also recommendations for sports halls and training facilities to be regarded as public health provisions.
Committee chairman John Whittingdale said: "Good habits are learnt early and it is a sad fact that many girls are put off sport by school games lessons.
"Many of our recommendations therefore are aimed at increasing the variety of sports on offer and making it easier for girls and women to participate in locally available, affordable activities adapted to their lifestyles."
'Amazing sporting icons'
In a separate development, shadow culture secretary Harriet Harman launched a consultation aimed at widening participation in sport.
She said: "Despite it being the 21st Century - where women are not prepared to be second class citizens and we have amazing sporting icons like Jessica Ennis and Tanni Grey-Thompson - we are very far from equality in sport.
"The select committee have done invaluable work and we welcome their findings."
A Department for Culture, Media and Sport spokesman said: "There are 6.84 million women playing sport every week - 500,000 more than in 2010, with a record amount of 16- to 25-year-olds participating.
"Sport England is investing over £1bn of public money into improving grassroots sport with a number of initiatives specifically targeted at women.
"This includes setting up over 300 girls-only after-school sports clubs across the country and plans for a major national campaign to promote women's sport."