Victorian-era diseases 'returning'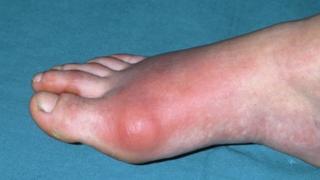 Diseases traditionally associated with the Victorian era are on the rise again in England, experts are warning.
The Health and Social Care Information Centre highlighted increases in gout, malnutrition and tuberculosis.
It said while they were not as widespread as they had been in the late 1800s and early 1900s, the fact they were returning needed to be addressed.
The data showed gout admissions had increased by a fifth since 2009-10, with nearly 5,800 admissions last year.
If the cases where gout was included as a secondary reason is taken into account, there were more than 86,000.
Malnutrition
Tuberculosis rates have also been going up in recent years, particularly in London, which is now seeing 15.3 cases per 100,000 people.
Meanwhile, hospital admissions for malnutrition had risen from 5,590 in 2012-13 to 6,690 last year, the report said.
Kingsley Manning, chairman of the centre, said even though rates were still low, the NHS needed to take note about what was happening.
"We are fortunate that these diseases are not as widespread today," he said.
But he added: "Healthcare organisations may be interested in undertaking further study into the trends highlighted in our report."