Waiting target missed in major A&Es 'for whole year'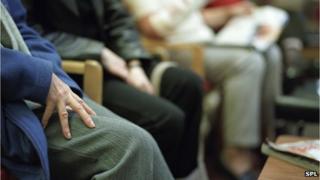 England's major A&E units have now missed their waiting time target for 52 weeks in a row, official figures show.
Hospitals are meant to see 95% of A&E patients in four hours.
NHS England looks at all A&E providers, including smaller units such as walk-in centres, and overall the official 95% target has been met over the last year.
But the last time the 144 trusts with major units met the four-hour standard over a seven-day period was in the week ending 14 July last year.
This contrasts to previous years when the target has been met during some of the warmer months.
The weekly picture in the major units is another sign of how pressure is still bubbling away in the system despite it being summer.
Extra funds
Data from all 255 A&E units, of whatever size, is looked at as a whole to measure whether 95% of patients are treated, admitted or discharged within four hours.
But the government does not require NHS England to meet a distinct target for major A&Es separate to the overall target.
The latest weekly statistics, released by NHS England on Friday, take in the week ending 13 July. They once again show performance is below the 95% mark for major units, known as Type 1s.
The number of visits to A&E units have been rising for a number of years. There were over 14.2m attendances last year - up 1.4% in two years.
But a bigger proportional rise has been seen in the number of these visits that end up with people being admitted into hospital. These tend to be the most complex cases that take the most time to deal with.
Of the 14.2m visits last year, just under 3.8m ended up with an admission into the hospital. That is 5.7% higher than two years previously.
Dr Cliff Mann, of the College of Emergency Medicine, said: "A lot of this is related to the ageing population and while the percentage rise may seem small we are still talking about a lot of people.
"We have a drastic shortage of doctors and that is hampering out ability to cope with rises in demand.
"We have to make the speciality more attractive."
The college has also called for measures to relieve the pressure on A&Es, including stationing GPs at units to deal with the less serious cases.
While England's A&E units are under pressure, performance elsewhere in the UK is even worse, particularly in Wales where under 90% of patients are seen within four hours and in Northern Ireland where it is under 80%.
Patients Association chief executive Katherine Murphy said: "We are increasingly hearing from patients about problems at A&E. It used to be just a winter phenomenon, but this shows it has become an issue all-year round."
She said she thought problems accessing GPs was a major factor.
Sarah Pinto-Duschinsky, of NHS England, said once the smaller units, such as walk-in centres, were taken into account the NHS was doing well and meeting the 95% mark.
"We are determined to maintain these high standards despite the pressure the NHS is under. NHS staff should be given the credit they deserve."
A Department of Health spokesperson said: "We know some A&Es are experiencing increased demand but the NHS continues to see the vast majority of people quickly and met the standard this week.
"We're giving the NHS extra support to keep services sustainable year-round and in the long-term, we want to reduce demand by looking after people better in the community."
Shadow health secretary Andy Burnham said: "The crisis in A&E is a problem of this Government's making. It has got harder for people to get a GP appointment while social care has been cut to the bone.
"The result is record numbers coming through A&E and thousands of older people trapped in hospital. The pressure is backing up through A&E, ambulance response times are getting worse and waiting lists at a six-year high.
"If this problem is not addressed now, it will drag down the rest of the NHS."