Cancer sufferer fears future without 'life-saver' drug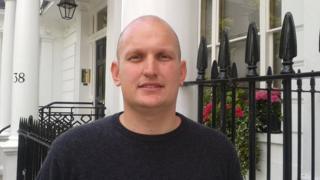 When a pharmaceutical company stops making a drug, what happens to the patients who think it saved their life?
Peter Franklin, from Plymouth, in south-west England, has been told a cancer drug - which he says has kept him alive and healthy for the past five years - is to run out.
He was given the drug as part of a trial.
But Pfizer, the company which makes the drug, says it has not proved successful enough to continue developing, so no more is being made.
Mr Franklin is now desperately hunting an alternative.
Doctors at the Royal Marsden Hospital in London told the 30-year-old that supplies of the drug figitumumab will run out in October.
It was being trialled in lung, breast, prostate and colorectal cancers but was also offered to patients such as Mr Franklin, who suffers from Ewing's sarcoma, a rare and very aggressive bone cancer that affects young people and teenagers.
'Very frustrating'
He said: "It is not good news. It is very frustrating from a personal point of view and very sad that a drug that can effectively control my disease in a number of people, be it a very small number of people, can be withdrawn when there are very few conventional drugs which will cause a good response.
"I was expecting it to happen as it's been mooted a couple of times in the past that the drug has not been successful in the majority of patients and would therefore be discontinued - but it adds a huge amount of uncertainty to our future plans."
Last year Mr Franklin married his long-term girlfriend and the couple were looking to the future.
But their plans are now on hold as Mr Franklin tries to find out what his options are once the drug runs out.
The chartered accountant was diagnosed with cancer when he was 23 and was treated with chemotherapy.
But the cancer returned. So in the summer of 2009 he started having monthly infusions of the Pfizer drug as part of a clinical trial. After just a few months the cancer and a tumour in his back disappeared and he has been able to live a normal life ever since.
Mr Franklin hopes the cancer has gone for good but believes the drug has been holding it at bay and is concerned it will return if he stops taking it.
'Compassionate-use process'
Doctors at the Royal Marsden Hospital have suggested that if the cancer does come back he could try to find another trial of a drug that works in a similar way, but there are no guarantees any will be open, or that he will qualify to take part.
A spokeswoman for Pfizer said: "Pfizer discontinued development of figitumumab in January 2011, based on the negative outcome of a number of randomised clinical trials.
"However, for a small number of patients globally, who in the medical judgement of their individual physicians benefited and tolerated it well, Pfizer continued supply through a compassionate-use process."
She said the company could not comment on Mr Franklin's individual case, but said the company had "clearly communicated" with doctors in 2012 and again recently that it no longer produced the drug and could only supply it until the shelf life of the research supplies expired. Pfizer advised doctors to look at other research into similar drugs.
A spokeswoman for the Royal Marsden Hospital said it could not comment on individual cases.