Beds shortage for child mental health patients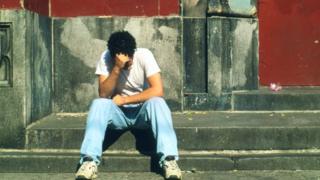 NHS England says it does not know how many hospital beds are needed to deal with increasing demand for children's mental health services.
In an official report, it said too many children were having to travel to access inpatient beds.
A leading charity called the review "distressing", highlighting both a lack of capacity and resources. Ministers admit the system is "too fragmented".
NHS England promised to provide 50 new beds urgently.
Patchy provision
This report, which was delayed by months, paints a chaotic picture of services for mentally ill children in England.
Around 10% of children aged between five and 16 have a mental health condition.
Those requiring inpatient care in Yorkshire, the Humber and the South West have inadequate access to hospital beds, says the report. Other areas which previously could cope are no longer able to do so because of patients travelling to these beds to access care.
An investigation earlier this year by BBC News and the online journal Community Care revealed extensive problems with mental health services for children and adolescents.
The review found that the number of beds for young people had increased from 844 in 1999 to 1,264 in January 2014. But most NHS commissioners, who pay for services locally, told the authors that increasing demand since April 2013 meant there was "a current insufficiency of beds".
Patchy local provision has also led to 16% of young patients being forced to travel more than 100 miles to get a hospital bed, the review found.
Quality 'issues'
Major staffing problems in children's mental health services are adding to the difficulties. The review found there was a lack of availability of adequately trained staff.
The problem had "sometimes led to closure to admissions or issues around quality of services".
One mental health team told the review that "junior clinicians [are] left to manage risky and complex cases". Bank and agency staff are being increasingly relied on, found the review, and the extra beds that NHS England are to provide "will generate a need for more staff".
The way NHS services are now provided is further exacerbating the problems, according to the authors.
The report found services that could prevent young people from needing a hospital bed were not provided in several areas.
Some commissioners or agencies may be reluctant to invest in early intervention services if the savings are not of direct benefit to them, said the report.
That, and the sheer number of agencies involved in these services, sometimes failing to work together, "can result in young people falling through the net, or... experiencing greater distress and potentially requiring more expensive services".
Despite - or because of - the plethora of problems identified, NHS England concludes that "it is impossible to conclude definitely whether the current level of bed provision is sufficient to meet the need".
Nonetheless they said they would provide a further 50 beds with others moved around the country as needed. In addition, between 10 and 20 managers are to be recruited to ensure young people get appropriate care as well as a more consistent approach to specialised mental health services.
Dr Martin McShane, NHS England's director for people with long-term conditions, said: "Too many children and young people have had to travel some distance from their homes to access specialised inpatient beds.
"We are committed to both addressing the more immediate problems, by increasing capacity, and to improving these services longer-term, together with our national partners. We want to ensure that we can provide sustainable, high-quality care as near to patients' homes as possible."
Immediate action
Commenting on the review, Sarah Brennan, chief executive of the charity Young Minds, said: "While this review is a distressing read, we welcome its publication as it lifts the lid on a lot of major failings in the provision of children and young people's inpatient care.
"This report has to be a pivotal moment where we seize the initiative and bring about a sea change in how we support children and young people's mental health."
She called for increased investment in young people's mental health, particularly in early intervention.
Norman Lamb, the care minister, said he wanted to build a "fairer society" where children received the mental health care they needed, but said the current system was "too fragmented and pressurised".
He said immediate action was being taken with the new beds and the appointment of a task force.
He added: "I am absolutely determined to get this right so that children everywhere get high quality care."