Frail need joint health and care budget, says NHS boss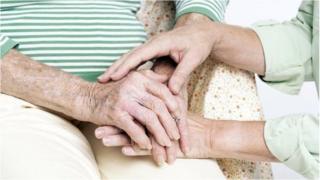 Vulnerable patients should be offered their own personal health and care budgets, the NHS England boss says.
Simon Stevens wants to see the frail elderly, people with disabilities and those with serious mental health problems given joint pots from the NHS and council-run social care services.
The hope is that five million people will be offered them by 2018.
The plans represent an extension of a policy - known as personal budgets - that has started being rolled out.
The idea is to give patients a nominal budget - probably at least £1,000 - which they can then decide to spend on whatever care and services they want, as part of a drive to give patients more power.
GP and emergency care is not included, and they can use these the same as anyone else.
These budgets have been used in social care for a number of years - nearly 650,000 people have them currently.
But they have just started to be used in the NHS, with less than 2,500 patients thought to be getting them.
Big offer
In a speech to the Local Government Association's annual conference in Bournemouth later, Mr Stevens said: "Patients, service users and carers have the biggest interest in getting things right, but they can only do so if we give them real power to shape their own care.
"We need to stop treating people as a collection of health problems or treatments. We need to treat them as individuals whose needs and preferences should be seen in the round and whose choices shape services, not the other way round.
"That's the big offer the NHS increasingly has to make to our fellow citizens, to local authorities, and to voluntary organisations."
Mr Stevens, who only became chief executive in April, has unveiled his plans amid growing concern about the financial state of the two systems.
Last week the Health Select Committee warned that the growing number of people with long-term conditions, such as diabetes and heart disease, was taking up an ever large slice of the NHS budget.
Meanwhile, the Association of Directors of Adult Social Services said the social care system was "unsustainable" because of growing demands and a cuts in funding.
The two systems have remained separate since they were created after World War Two.
However, in recent years there have been attempts to integrate the two more.
The most recent is the Better Care Fund, a £3.8bn joint pot which is being launched in April to encourage joint working across the board.
The plans outlined by Mr Stevens target some of the biggest users of health and care services and represent a further step towards integration.
Caroline Abrahams, of Age UK, welcomed the move towards more personalisation, but said the budgets needed to be carefully designed so they were not "confusing".
Councillor Katie Hall, of the Local Government Association, said: "It is good that the NHS has recognised the benefits of this local government model and we are very keen to work with the NHS on developing practical ways to make care more personalised."
But she said the plans would not do anything to "resolve the funding crisis".