Blood infection warning for new mums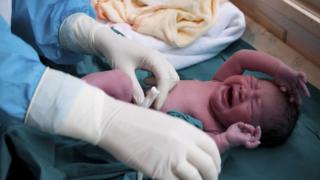 Pregnant women and new mothers need closer attention for signs of potentially fatal sepsis, a study says.
Most women recover with antibiotics but signs of severe sepsis should be regarded as a medical emergency, say University of Oxford researchers.
Sepsis - triggered by infection - is the leading cause of death in new mothers in the UK.
Over the study period - June 2011 to May 2012 - five women died from 365 cases of maternal sepsis in the UK.
Sepsis can cause the body's immune system to go into overdrive, setting off a series of reactions which can lead to organ failure.
Prof Marian Knight, of the National Perinatal Epidemiology Unit at the University of Oxford, said doctors should be aware that prescribing antibiotics did not necessarily prevent severe sepsis.
The study is published in PLOS Medicine.
Septic shock
"The majority of women who get an infection during or after pregnancy will get better quickly," Prof Knight told BBC News.
"However, a small number go on to develop severe sepsis or septic shock even after taking antibiotics.
"Women who are pregnant or have recently given birth need to be aware that if they are not getting better after being prescribed antibiotics, for example if they continue to have high fevers, extreme shivering or pain, they should get further advice from their doctor or midwife urgently."
Commenting on the study, Dr Ronald Lamont, a spokesman for the Royal College of Obstetricians and Gynaecologists, said it highlighted the problem of antibiotic resistance.
"It's important information because it's reminding us we shouldn't be complacent about infections," he said.
"We tend to think infection can be cured by antibiotics but this study is telling us that women are still dying in and after childbirth from infection."