Alzheimer's research in 'major step' towards blood test
By James Gallagher
Health editor, BBC News website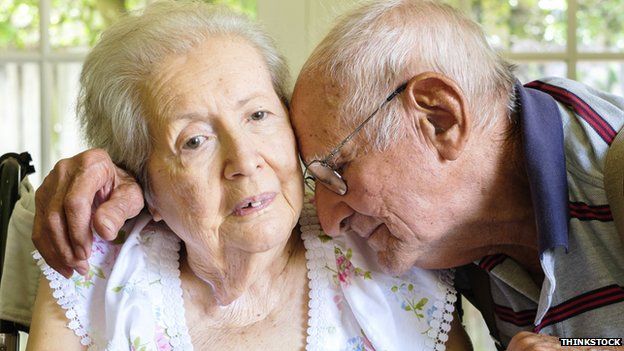 British scientists have made a "major step forward" in developing a blood test to predict the onset of Alzheimer's disease.
Research in more than 1,000 people has identified a set of proteins in the blood which can predict the start of the dementia with 87% accuracy.
The findings, published in the journal Alzheimer's & Dementia, will be used to improve trials for new dementia drugs.
Experts warned that the test was not yet ready for doctors' surgeries.
Doctors believe the failure is down to treating patients when it is already too late, since symptoms appear around a decade after the start of the disease.
Identifying patients earlier is one of the priorities for dementia research.
Dementia across the globe
44 million

globally have dementia

135 million

will have the disease in 2050

By then

71%

will be poor and middle income

$600bn

global cost of dementia

In the UK, cancer research gets

8x

as much funding as dementia
Source: Alzheimer's Society
The research group, which combines university and industry scientists, looked for differences in the blood of 452 healthy people, 220 with mild cognitive impairment and 476 with Alzheimer's disease.
They were able to tell with 87% accuracy which patients with mild cognitive impairment would go on to develop Alzheimer's disease in the next year.
"We want to be able to identify people to enter clinical trials earlier than they currently do and that's really what we've been aiming at," said lead researcher Prof Simon Lovestone from the University of Oxford.
However, he said it may find a place in doctors' surgeries in the future.
"As long as there is no treatment one can question the value of a test, but people come to the clinic because they want to know what's happening to them and I currently can't tell them."
He said he was forced to tell patients to come back in a year and see if their memory problems were any worse.
Prof Lovestone added: "That's grim, it's horrible, you can only imagine what that's like for patients.
"Although I have some real reservations about doing a test, all I can say is there are some people who come to clinics asking precisely that question."
Dr Ian Pike, chief operating officer at Proteome Sciences, said: "Having a protein test is really a major step forwards.
"[It] will take several years and need many more patients before we can be certain these tests are suitable for routine clinical use, that process can start fairly quickly now."
Dr Eric Karran, director of research at Alzheimer's Research UK, described the study as a "technical tour de force".
However, he warned the current accuracy levels risked telling healthy people they were on course to develop Alzheimer's which may lead to anxiety and depression.
It is unlikely that the test would be used in isolation if it eventually makes its way into clinics. A positive result could be backed up by brain scans or testing spinal fluid for signs of Alzheimer's.
However, Dr Karran did argue this was a step towards making Alzheimer's a preventable disease.
"I think it does, but not immediately.
"This gives a better way to identify people who will progress to Alzheimer's disease, people who can be entered into clinical trials earlier, I think that will increase the potential of a positive drug effect and thereby I think we will get to a therapy, which will be an absolute breakthrough if we can get there.
"It's not a simple journey. We all wish it was."
Related Internet Links
The BBC is not responsible for the content of external sites.