One-fifth of hospitals 'may be covering up mistakes'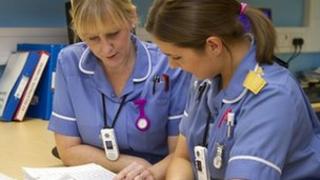 A fifth of hospital trusts in England may be covering up mistakes, a government review suggests.
The analysis of reporting incidents shows 29 out of 141 trusts were not registering the expected number of safety incidents.
The review said this may be a sign of a "poor" safety culture.
Health Secretary Jeremy Hunt said it was important hospitals were "open and honest", and that patients had a right to know about problems with reporting.
The data has been released as part of the Department of Health and NHS England's drive to improve safety in the NHS.
In March, Mr Hunt set the target of saving 6,000 lives over the next three years by reducing the number of serious mistakes.
He asked trusts to join the Sign up to Safety campaign and draw up plans to halve "avoidable harm" such as medication errors, blood clots and bedsores by 2016-17.
He said this could stop a third of preventable deaths in the coming years - equivalent to 6,000 lives saved.
Safe staffing
On Tuesday the government will launch the next stage of this campaign, a website which will allow patients to view the performance of individual hospitals on measures such as safe staffing levels and infection rates.
It will also reveal which trusts have been given a poor rating for open and honest reporting. This has been decided after reviewing the way trusts report safety incidents into the National Report and Learning System as well as looking at the results of the staff survey question relating to safety reporting.
Those with lower-than-expected incident reporting, which is widely acknowledged to be a sign of problems, will be followed up by NHS England officials.
Nick Triggle - Health Correspondent BBC News
The latest announcement on patient safety makes alarming reading. One in five sounds like problems are widespread.
But what the government has done is essentially risk-profile - that is to say work out which trusts fall outside the expected range.
They do this by working out what average performance is. In this case, it is to do with how many safety incidents are reported.
Some leeway is then given to allow those who are just above or below the average to be grouped together in the expected range. This leaves a number of good and bad outliers - which, by definition, will be around 20% to 25% of the total.
This is a tried-and-tested method that has been used by groups such as Dr Foster for years. Indeed, the Care Quality Commission did it when they gave each hospital a risk rating last year. That time one in four fell into the "bad" category.
This, of course, is not the same as saying the trusts are risky. The government argues publicising its risk analysis in this way is about being open and honest. That maybe true, but the danger is that the subtleties of the message can get lost.
Mr Hunt told BBC Radio 4's Today programme that this was not about "humiliating" anyone.
"The NHS is there for patients and if a hospital has a problem with its reporting culture, I think patients have a right to know that," he said.
The health secretary said if patients were aware of these problems, hospitals would be encouraged to take more speedy action.
The founder of the Clinical Human Factors Group, which campaigns for a safer NHS, warned that "simply naming and shaming" would not bring the best results.
Martin Bromiley, whose wife died in 2005 following a minor operation in hospital, said understanding why organisations were not reporting incidents was key.
"We need to try and understand the organisations that aren't reporting," he told the Today programme.
"We need to understand the cultures and what things they are doing that are not encouraging openness."
Mr Bromiley said the best organisations were the ones that encouraged learning.
He said there might have been an "unconscious incompetence" when it came to those failing to be open because they did not understand the process of developing a "safety culture".
The website is being hosted on the NHS Choices site and will be launched on Tuesday afternoon.
The Department of Health stressed that there could be justifiable reasons for low reporting, such as the trust being safe or innocently not using the recording system properly, but that it was only right the concerns be investigated further.
'Avoidable harm'
Mr Hunt said: "The NHS is leading the world in achieving new safety standards but the battle to reduce avoidable harm is constant.
"Unsafe care causes immeasurable harm to patients and their families, and also costs the NHS millions in litigation claims."
Sir David Dalton, the chief executive of Salford Royal Hospital and leader of the safety campaign, urged hospitals to be open.
"Healthcare carries inherent risk and while healthcare professionals work hard every day to reduce this risk every day, harm still happens.
"Some is unavoidable but most isn't. Sign up to Safety seeks to reduce this harm and is a unique opportunity for us all to work together to listen, learn and act to make a difference."