Dementia is 'one of greatest enemies of humanity' - PM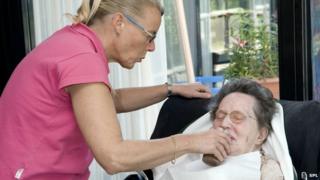 A "big, bold global push" is needed to beat dementia, David Cameron has told a summit in London.
He pledged to accelerate progress on dementia drugs, by increasing funding and making new drugs more accessible.
The prime minister was speaking to an audience of 300 experts who have pledged to find a cure by 2025.
He wants a team of experts to report back to him by October on how drugs companies can be encouraged to develop new dementia medicines.
In his speech, the prime minister told experts that dementia is one of the "greatest enemies of humanity".
"We are renewing our commitment to say by 2025 we want to find a cure to dementia. We should treat this as a disease rather than as some natural part of ageing," he said.
He said there was a need to develop more drugs and get them to patients more quickly. For that to happen, international collaboration and more money for dementia research was needed, he said.
Speaking to an audience of global dementia and finance specialists, David Cameron said he would speed up progress on dementia drugs by getting experts to come up with new proposals on areas such as drug patent extensions, by October.
He added: "Something like £50m a year is being spent on dementia research, rather than the £590m spent on cancer. It is important to see dementia as a disease and one that we need to better understand so that we can tackle it."
Mr Cameron told BBC Radio 4's You And Yours that more needs to be done to improve the lives of those with dementia.
"So much of this is about making sure hospitals and care homes treat people with dementia better and, absolutely crucially, that we build dementia-friendly communities where all of us try and understand better what it's like to live with dementia," he said.
---
Cancer v dementia research
UK government funded £52m of research into dementia in 2012/13
It has pledged to increase this to £66m by 2015
Around £600m is spent on cancer research each year
For every one dementia scientist in the UK, at least six work in cancer
Source: Alzheimer's Research UK
---
Earlier, Alzheimer's Research UK announced a £100m research campaign and the Medical Research Council (MRC) said it was undertaking the world's biggest study into dementia, involving two million people.
The new world dementia envoy, Dennis Gillings, who was appointed by David Cameron in February, warned that if global leaders do not incentivise businesses to invest in research, the ambition to find a cure by 2025 will not be met.
Dr Gillings said: "Dementia is a ticking bomb costing the global economy £350bn and yet progress with research is achingly slow. Research must become more attractive to pharmaceuticals so they will invest and innovate.
"Just as the world came together in the fight against HIV/Aids, we need to free up regulation so that we can test groundbreaking new drugs, and examine whether the period for market exclusivity could be extended.
"Without this radical change, we won't make progress in the fight against dementia."
Labour care spokeswoman Liz Kendall said her party supported the government's commitments to research funding, but wanted Mr Cameron to do more to help people currently struggling with dementia.
"Hundreds of thousands of people with dementia and their families are struggling without the vital local care services they desperately need. This isn't good for them, and is a false economy as an increasing number of elderly people with dementia are ending up in hospitals or care homes when they don't need to."
Dr Alison Cook, from the Alzheimer's Society, said the UK's best scientists should be given "the right environment to develop better treatments and ultimately a cure".
She called for the industry to "step up" in order to deliver the G8 summit's pledge of a cure for dementia by 2025.